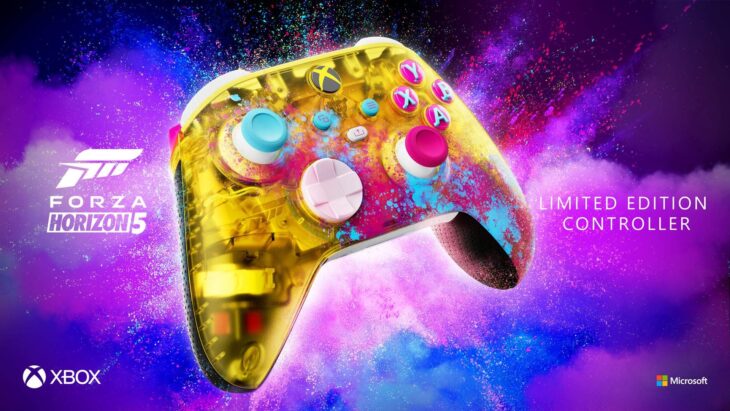 Microsoft has revealed a limited edition Forza Horizon 5 controller that will function with both Xbox consoles and PC. The controller has a stunning design that makes it look like nothing else seen in this console generation.
The controller is made of translucent yellow plastic, with pink and blue buttons and a spray of paint across the bottom. Colour is definitely the name of the game here, and it matches the bright colors seen in the game it's inspired by.
Microsoft says that the controller is, in fact, inspired by the fireworks of Mexico that have been carefully woven into the Forza Horizon 5 experience. These will be a key part of this game's Horizon Festival, something that each game has brought a new iteration of.
It's also been confirmed that all consumers who buy a copy of this game will get an exclusive Forza Horizon 5 car DLC, cosmetic item, and even a victory emote. These will be limited to those who purchased the controller, and won't be available anywhere else.
The controller is certainly one that stands out, and it's far better than most of those Microsoft has released since the Xbox Series X/S came out. It's also a huge improvement on what's available through the Xbox Design Lab, which is now incredibly limited.
The controller is available to pre-order from the Microsoft Store for £64.99, but it doesn't come with a copy of the game. This is a controller only, and there's going to need to be a separate purchase if players want to get their hands on the game.
Microsoft has been trying to make a splash with more variants on its Xbox Wireless controllers. Sony has seen some success with its limited offering, but Microsoft is expanding at a much faster rater. It seems as though the company wants to push the boat out and have as many designs as possible, but not all of them look that great.
Time will tell if Forza Horizon 5 is enough of a draw to make this controller a success. It's certainly one that many consumers will think about buying even if they don't want to play the game.