Analysis of the UK's Christmas charts of the top selling video games for five years.
2015
2014
2013
2012
2011
1.


Call of Duty: Black Ops 3
Activision


Call of Duty: Advanced Warfare
Activision


FIFA 14
EA Games


Call Of Duty: Black Ops 2
Activision Blizzard


The Elder Scrolls V: Skyrim
Bethesda
2.
Star Wars: Battlefront
EA Games
Fifa 15
EA Games
Call of Duty: Ghosts
Activision
Far Cry 3
Ubisoft
Just Dance 3
Ubisoft
3.
Fifa 16
EA Games
Grand Theft Auto 5
Rockstrar
Assassin's Creed IV: Black Flag
Ubisoft
Hitman Absolution
Square Enix Europe
Call of Duty: Modern Warfare 3
Activision
4.
Fallout 4
Bethesda
Far Cry 4
Ubisoft
Battlefield 4
EA Games
Fifa 13
Electronic Arts
FIFA 12
EA Games
5.
Minecraft: Story Mode
Telltale Games
Assassin's Creed: Unity
Ubisoft
LEGO Marvel Super Heroes
Warner Bros Interactive
Just Dance 4
Ubisoft
Saints Row: The Third
THQ
6.
Assassin's Creed: Syndicate
Ubisoft
The Crew
Ubisoft
Grand Theft Auto V
Rockstar
Need For Speed Most Wanted
Electronic Arts
Battlefield 3
EA Games
7.
Just Cause 3
Square Enix
Destiny
Activision
Just Dance 2014
Ubisoft
Assassin's Creed 3
Ubisoft
Assassin's Creed: Revelations
Ubisoft
8.
Grant Theft Auto 5
Rockstar
Minecraft: Xbox One Edition
Microsoft
Need for Speed: Rivals
EA Games
Halo 4
Microsoft
Mario & Sonic at the London 2012 Olympic Games
Sega
9.
Tom Clancy?s Rainbow Six Siege
Ubisoft
Minecraft: PlayStation Edition
Sony Computer Entertainment
Killzone Shadow Fall
Sony
Lego The Lord Of The Rings
Warner Bros. Interactive
Need for Speed: The Run
EA Games
10.
Uncharted: The Nathan Drake Collection
Sony
LEGO Batman 3: Beyond Gotham
Warner Bros. Interactive Entertainment
Minecraft Xbox 360 Edition
Microsoft
WWE '13
THQ
Professor Layton and the Spectre's Call
Nintendo
GfK Chart-Track has published 2015 Christmas week's chart of the best selling video games in the UK. The results have been expected with great interest by many. Of course, Christmas week is just one of the 52 weeks in the year, not particularly different than the previous week, or the following one, but many publishers and developers love to see their games appear in the Christmas chart. Christmas week is not even the biggest one in terms of sales, there are usually at least several weeks in a year that see significantly larger sales, for example the Black Friday week, or the weeks when some big titles are releasing, such as Call of Duty, Fifa, and a few other titles.
Since there is a lot of interest for Christmas week charts, we thought it would be interesting to have a look at the historic data of the Christmas charts in the UK in recent years, to analyse, and find some trends. For example what franchises have been most successful in the recent years? Who have developed and published the most successful games? To find answers on these and some other questions, we have looked at the UK's Top 10 charts of recent years, from 2011 to 2015, please see the table above.
Top Games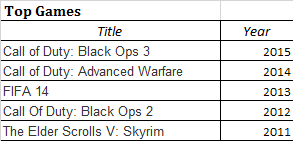 The above games were number one in the Christmas charts from 2011 to 2015. Call of Duty Advanced Warfare was on top not only on Christmas week but also has been on the top for the most time of the year, starting from November 2014 to November 2015 when Call of Duty Black Ops 3 released, which is currently on top of the chart. Fifa 15 has done very well too, after its release in September 2015 it has been in the top most of the time. Year 2013 was also mostly a Call of Duty year, with Ghost on top of the charts for most of the year, although Fifa 14 has managed to top the chart on the Christmas week. In previous year, Fifa 13 was less successful and ended on the fourth position. It was Far Cry 3 to compete with Call of Duty Black Ops 2 for the crown on Christmas 2012. The top of 2011 chart was quite different from recent ones though, with The Elder Scrolls V: Skyrim and Just Dance 3 on top.
Top Franchises

Three franchises, Call of Duty, Fifa, and Assassin's Creed have been in the top 10 all five years. Call of Duty appears to be the most successful game for Christmas, in all five years it was in the top 3 position. Fifa is the next successful game, appearing three times in the top 3 in five years, and Assassin's Creed has only once. Other titles that appeared in the chart most of all include Minecraft, GTA 5, Need for Speed, Just Dance, and Lego series.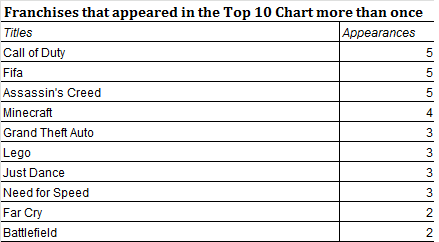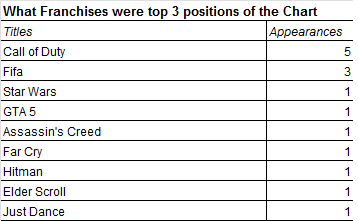 Most Successful Publishers
The most successful publisher was Ubisoft, with its games appearing in top ten charts 12 times during the last five years. The next successful publisher was Electronic Arts, with 11 appearances in top ten chart, and the third was Activision with six appearances.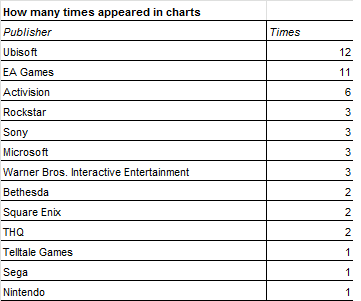 Most Successful Developers
The most successful game developer was Ubisoft Montreal with their games appearing six times in the top 10. Next was EA Canada with four appearances in the top 10 during five years. The third most successful developer was Rockstar North, with Grand Theft Auto 5 appearing three times in Top 10. GTA 5 released three years ago, has been in top 10 ever since, and is the most successful long seller in the charts.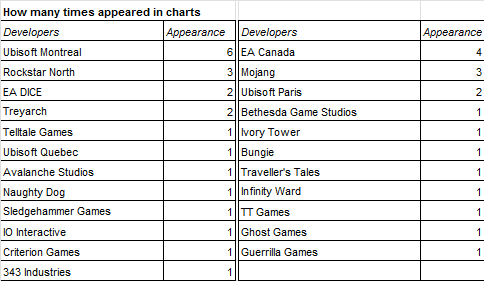 Christmas week's top chart is a snapshot of the results at that moment and is not cumulative. It is more interesting to have a look at analysis of the yearly total results, and we are planning to do this soon.
Related Topics:
Christmas
,
Video game charts
---