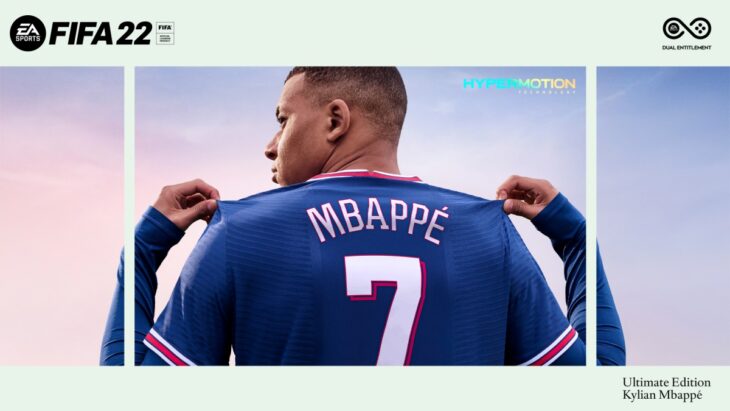 Publisher EA has revealed FIFA 22 with a brand new trailer for the game. The company has also confirmed that the title will launch on October 1, 2021, showing a shift back to the usual release window for the franchise.
The trailer shows off one of the game's key features: HyperMotion. This feature uses machine learning to create facial animations that will be unique to each player's experience and what's going on on the pitch at the time.
The aim of this technology is to create much more realistic animations and immerse players fully in the FIFA experience. The feature is based upon millions of recorded facial animations from real 11 vs 11 matches, and writes new animations in real-time. This is even extended to the bodies of players, meaning that everything about a digital representation of your favorite player will be as realistic as possible.
The real animations that have been recorded aren't from broadcasted football matches, they're from 11 vs 11 matches EA set up and recorded itself. Each footballer wore Xsens motion capture suits, meaning every single movement was recorded.
EA claims that the real benefits of this technology will be seen in tackles and the physicality of FIFA 22. This is much closer to a simulation of real football than the franchise ever has been, making it one not to miss for hardcore players.
When it comes to PS5 and Xbox Series X/S, EA explained that the game will have improved AI. Attackers and defenders will make around six decisions per second based upon players' actions, allowing the opposing team to work as a single unit and really push players to their limits in every match. This will be present in all game modes.
The game is now available for pre-order across all devices. The base game is priced at £54.99 on PS4 and Xbox One and £64.99 on PS5 and Xbox Series X/S. The Legacy Edition, which doesn't contain any of the game's new innovative features, or a single improvement since FIFA 19 apart from cosmetic upgrades is priced at £34.99.
A Day 1 Ultimate Team Bundle is also available for £69.99 on PS4 and Xbox One, or £79.99 on PS5 and Xbox Series X/S. It includes the base game and 2200 FIFA Ultimate Team Points.
The third version of the game is the Super FIFA Ultimate Team Bundle, which costs £84.99 on PS4 and Xbox One or £94.99 on PS5 and Xbox Series X/S. This includes 4600 FIFA Ultimate Team Points.
All consumers who pre-order will also get a Team of the Week Player 1 Item, Kylian Mbappe Loan Item, FIFA Ultimate Team Ambassador Loan Player Pick, and Career Mode Homegrown Talent.
While some consumers will be expecting to be able to purchase the last-gen version of the game and upgrade to the current-gen version for free, EA has put a restriction on this. EA has now made it clear that you'll only be entitled to a free upgrade if you purchase the digital only Ultimate Edition. While it will be possible to play a PS4 physical version on a PS5, it won't contain the upgrades that the PS5 version comes with.
EA has done the same thing with Madden NFL 22. However, with this title, only those who purchase the MVP Edition for £89.99 or the Dynasty Edition for £109.99 will be able to upgrade to a current-gen version of the game.
As games become more expensive on current-gen consoles, some consumers may look to find ways to save money on the games they buy. While initially it seemed as though most developers and publishers would offer free upgrades between console generations, it's becoming increasingly clear that this isn't the reality.
When EA announced last year that it wouldn't be possible to upgrade between versions of FIFA 22 and Madden NFL 22, the fan bases were outraged. It's only because of that feedback that this new upgrade system was begrudgingly implemented. If fans do something similar now, it's possible EA will change its offering before the release of either of these games for fear of losing sales.
You can pre-order wholesale quantities of FIFA 22 from selected distributors.