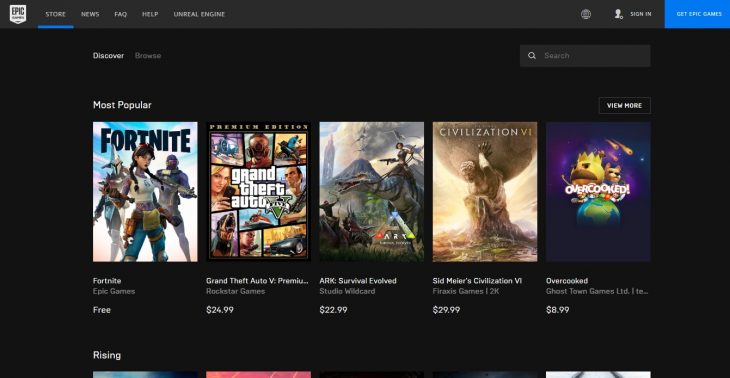 During the recent promotional event on the Epic Games Store, the platform managed to rack up 61 million monthly active users.
The Epic Games Store campaign, The Vault, began on the 14th of May, and was made up of a series of giveaways. The games included in the promotion were Grand Theft Auto 5, Civilization VI, borderlands: The Handsome Collection, and many more games as well. All of these games were given away for free for a limited time, but users get to keep them forever once claimed.
The General Manager of the Epic Games Store, Steve Allison, explained that the company had always wanted to hold a big event where they gave out big-name games for free ever since the store first launched. The results of The Vault far exceeded their expectations for 2020, and it's still growing at a historic rate.
Epic Games set a number of new company records over the course of The Vault promotion. Peak concurrent users on PC hit 13 million people, and the store had 61 million monthly active users over the course of the promotion as well.
The key to this success was definitely the giveaway of Grand Theft Auto 5, which had a huge impact on the promotion's, and the Epic Games Store's, popularity. But still, these numbers are well below the storefront's major competitor, Steam.
Steam's owner, Valve, set a new record earlier this year for concurrent users. The number of users playing games on Steam at one time reached 23.5 million, mostly due to the fact that people were stuck indoors due to lockdowns related to the coronavirus (COVID-19) pandemic.
The Epic Games Store is a great platform for a number of games. It has exclusive titles that are a perfect fit for the ecosystem, and the way that Epic Games supports them makes their communities feel much more appreciated than through other storefronts, such as Steam's Early Access.
However, Steam has been around for longer, and has its own ecosystem that integrates multiplayer, achievements, and friends lists. These are what Steam fans value from the platform, and are the reason that many won't move over to the Epic Games Store.