Electronic Arts has announced that a brand new gaming event will be held for the first time this summer in London and Los Angeles.
Describing it as an all-new experience celebrating the year's major gaming releases, Play will be EA's first outing in organising a hands-on gaming event. The convention will include new games, demonstrations, guest appearances and competitions to both live events and online streaming. It aims to be a more accessible event for the fans of EA's output.
Planned for 12th June 2016 in London, and from the 12th to 14th in Los Angeles, EA's event will make mid-June the most important time of the year for gaming conventions, as it comes just before E3's 14th to 16th dates.
Electronic Art's decision to run their own gaming event so close to E3, the world's premier gaming expo, will undoubtedly affect their showing at E3. Polygon reports that "major changes" will occur to EA's E3 demonstrations. Supposedly, they will not have a booth at the expo.
EA's exhibitions are frequently one of the biggest at E3, so the Play event will certainly draw focus away from E3. Polygon reported that a representative from E3 praised EA's contribution to the event and said that they look forward to their involvement at the expo, so clearly EA will not shun E3 entirely.
Although the full details of how to attend Play have not been made clear, EA said that tickets will have to be reserved, although they will reportedly be free of charge. People who attend Play will get exclusive access to EA games before the press and industry attendees of E3.
Speaking to IGN, EA's chief marketing officer Chris Bruzzo said that Play will be similar to the annual press conference held by EA and will be very much focussed on their games. The event will be broadcast on all EA channels, and will include developer panels, daily streams and other events.
EA Play will open on 12th June 2016. Details on tickets will be revealed closer to the event.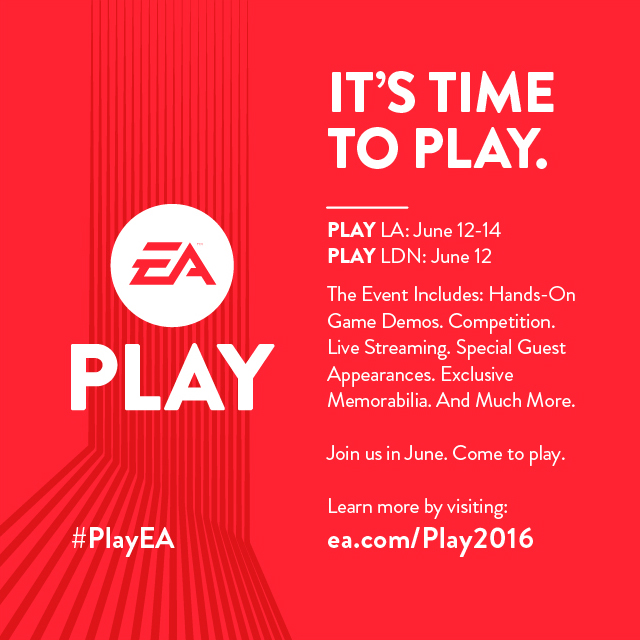 Related Topics:
EA Play
,
Electronic Arts
,
Events
---