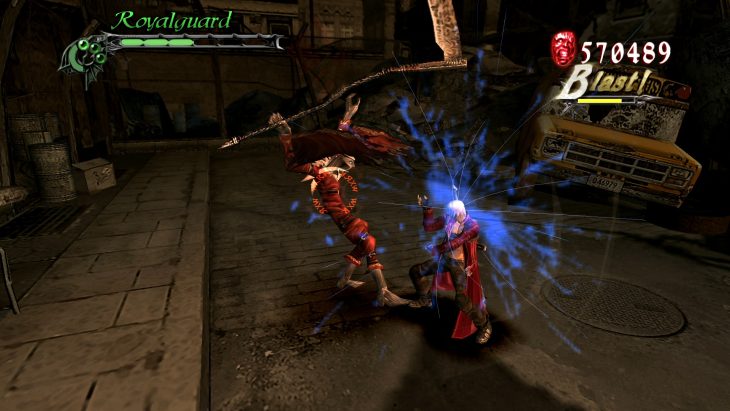 Capcom has slowly been bringing the Devil May Cry series to Nintendo Switch, and with Devil May Cry 3 they've teased that some new features will be introduced in the Switch version of the game.
This new feature is a Style Change system, which will allow players to switch between the game's styles whenever they want to with the D-pad. Each button on the D-pad has been assigned a style, though these controls can probably be changed within the game to suit a player's preferred layout.
The four styles that players will be switching between in Devil May Cry 3 on Nintendo Switch are Trickster, Royalguard, Swordmaster, and Gunslinger. The new feature is called Freestyle Mode, and will allow players to rack up style points in the game for their preferred play style, or just the one they want to perfect at a given point in time.
In the original release of Devil May Cry 3, the D-pad was only ever used to navigate menus. This meant that they were fairly under utilized, but it was a necessary step because of how players expected controls to be in their games, with joysticks controlling character movement and cameras.
Styles are a big part of the Devil May Cry series. Each one sees the protagonist attack enemies in a completely different way. For example, the Trickster Style makes it easier for players to pull off tricks in combat, such as juggling multiple enemies with each hit. The Gunslinger Style, on the other hand, is far more focused on gunplay.
Each Style has its place in Devil May Cry 3, with areas filled with flying enemies being much more suited to gunplay, and therefore the Gunslinger Style, while sections with close areas filled with lots of enemies will be easier to push through with a melee focused style such as the Swordmaster Style.

The Producer of the Nintendo Switch version of Devil May Cry 3, Matt Walker, took to Twitter recently to explain the new feature. He also reiterated that there are more surprises in store for fans, indicating that there are other new features coming to the game with this new version.