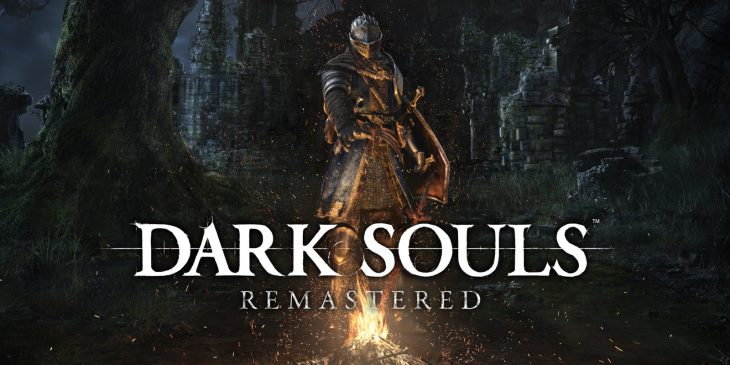 Cult classic Dark Souls, from developer From Software, has had a fully remastered version announced for PlayStation 4, Xbox One, PC, and Nintendo Switch, launching on May 25, 2018.
After a leak which most press outlets posted about hours before the official reveal, From Software announced Dark Souls Remastered, a fully remastered version of the game that sparked the cult Dark Souls series.
Dark Souls Remastered will contain the original game and the two DLC expansions released for it, The Painted World and Artorias of the Abyss. Both of these expansions add new areas to the game with multiple new bosses to beat, as well as more weapons, miracles, and pyromancy to master in addition to the extra covenants. From Software have also confirmed that the game will now support up to six players in one world for multiplayer, as opposed to the limitation of 4 in the original game.
At the end of November 2017 From Software revealed that they would be shutting down the multiplayer servers for Demons Souls in February 2018, the game that many say Dark Souls is the spiritual successor to. The servers allow players to warp to the game worlds of other players in either a helpful or hindering capacity, much the same as in all Souls games. This news sparked a slew of fan theories surrounding a Dark Souls or Demons Souls remaster, which From Software would need the dedicated servers for. Now it seems as though these theories had credence as the entire Souls community celebrates the upcoming remaster.
In the Dark Souls series players must fight though a world full of hostile enemies in order to link the flame, beating a number of impressive bosses along the way. The games are known for how challenging they are, since each time player dies they lose the experience points, called souls, they hadn't banked and must pick them up again before dying, at which point they would be lost forever. Any enemy in the game can be a player's doom if they aren't careful, and it's this level of challenge that sparked the following the games have today.
The remaster is particularly exciting because not only will it bring the game's visuals up to date in both HDR, and 4K on PC, Xbox One X, and PlayStation 4 Pro, but it's the first time the game will be available on a portable console on the Nintendo Switch. The game adds to the growing roster of third party titles for the Switch, and is definitely the most adult and serious, showing how Nintendo is expanding the appeal of the console with a range of games clearly not aimed at children in Dark Souls, and Darkest Dungeon next week.