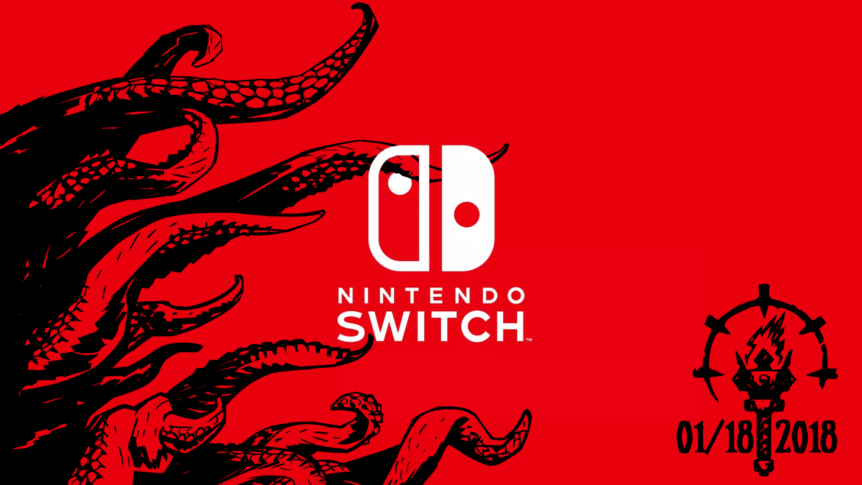 Independent developer Red Hook Studios have announced that their roguelike dungeon crawler Darkest Dungeon will be releasing on Nintendo Switch on January 18, 2018.
Darkest Dungeon is coming to Nintendo Switch on January 18th, which will be the second portable console the game has been made for. Darkest Dungeon has previously been released for Playstation Vita, however the size of the screen makes reading the in-game explanations a little difficult. The Nintendo Switch has a much larger screen than the Vita which should mean this won't be a problem on the new version. The Switch version will also use touch controls, which the Vita version didn't despite having the same capabilities.
The Nintendo Switch version won't include the current DLC for the game, Crimson Court and The Shieldbreaker, but they will be available to purchase on the Switch eShop from January 18th. The latest upcoming DLC, Color of Madness, will eventually come to the Nintendo Switch but no timeline has been confirmed.
Darkest Dungeon was released on January 19, 2016, leaving early access for a full version on PC and OSX. The Playstation 4, Playstation Vita and Linux versions released a few months later, with a version for iPad launching recently in August 2017.
In Darkest Dungeon players take control of a band of heroes in a dark and twisted world. The game's story revolves around a manor in a small Hamlet, underneath which the darkest creatures from an even darker dimension were released. Players must navigate the various dungeons surrounding the Hamlet and the Manor, beating these dark creatures in turn based fights to claim the look the dungeon has to offer.
At the core of Darkest Dungeon's gameplay is the affliction system. There are a number of afflictions which can have detrimental effects on a player's heroes. Should an affliction become too high, such as fear, the player risks losing that character and all of the experience they have gained to insanity or death. Since Darkest Dungeon is a roguelike once a character is dead they never come back, and the player must hire a new one to replace them.
The small Hamlet acts as the hub between dungeons for the player to hire new characters, heal afflictions to at least some degree, and invest money. The more you invest in the Hamlet the better the characters you can hire, or the weapons and armour which can be purchased.
The game has a number of subtle mechanics, such as taking enough food for the party to survive into a dungeon, that make playing it a brutal experience much like Dark Souls. Once a player has mastered these mechanics they only need to worry about beating the hideous monsters in the game's dungeons which are rendered in a beautiful art style.