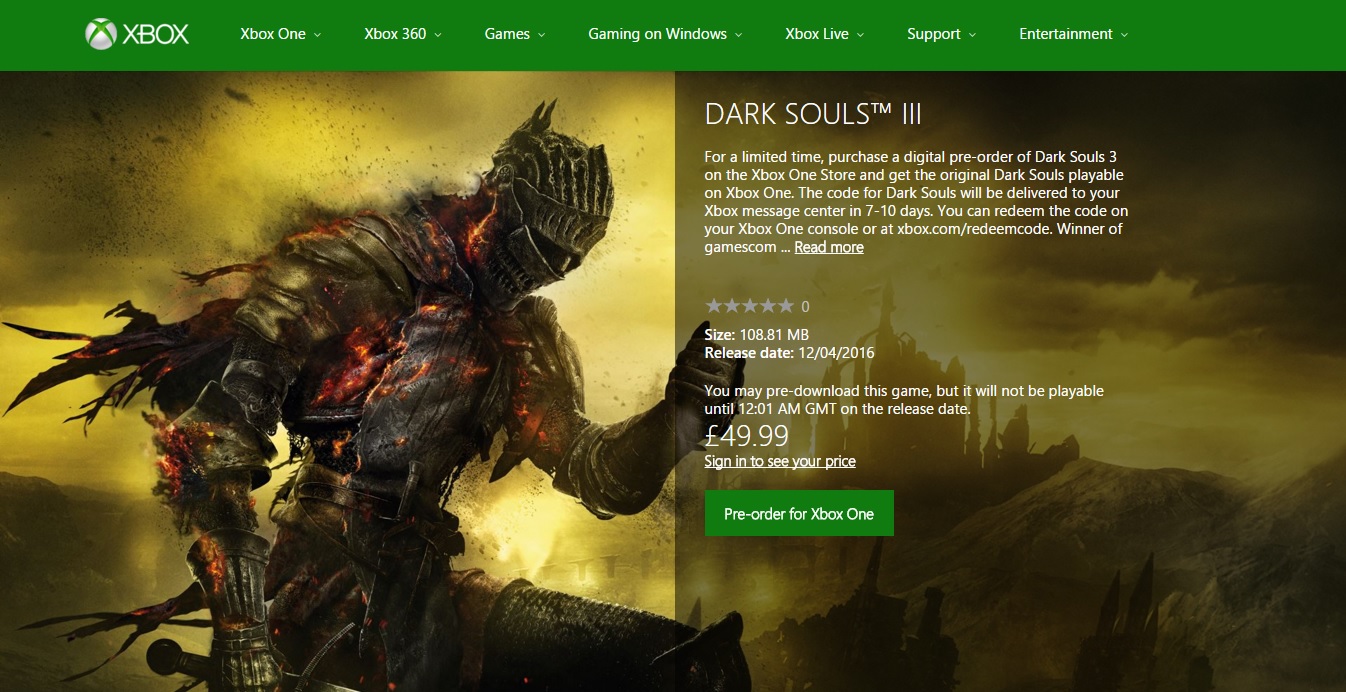 The notoriously difficult Dark Souls has made its way onto Xbox One's backwards compatibility programme, reports say.
First spotted by an Xbox gamer posting on Reddit, Dark Souls was found to be available via backwards compatibility in the Australian zone, with copies presumably following soon in other regions. Additionally, they found that the latest entry to the series, Dark Souls 3 was available for preorder.
The deal on the Australian Xbox One store allowed gamers to pre-purchase a copy of Dark Souls 3, while also giving them a copy of Dark Souls. MCV noted that those who bought the bundle were to receive a copy of the original From Software game within a week or so, suggesting that the title will launch official on Backwards Compatibility after that time frame.
Dark Souls was released back in 2011 on PS3, Xbox 360 and PC. It received high praise from critics and gamers, who were drawn to the game's dark and bleak atmosphere, intricately designed levels and punishing difficulty.
The game also featured an innovative invasion-based multiplayer aspect that could engage at any point in the game, as well as RPG levelling and a mysteriously minimalist storyline. The Souls franchise includes the three Dark Souls games, as well as predecessor Demon Souls and spiritual successor Bloodborne.
Despite the fact that Dark Souls appeared on Backwards Compatibility, MCV reported that the offer has since been removed from the store. However, Major Nelson revealed that DS1 is available alongside digital preorders of DS3 for a limited time only. No official word is known as to the length of the deal. It is certain, however, that DS1 will be available on Xbox One by itself, possibly after the release of DS3.
This isn't the first time Microsoft has mistakenly launched an Xbox 360 game onto the Xbox One's Backwards Compatibility programme. Earlier in February 2016, Xbox erroneously pushed Rockstar's Red Dead Redemption to the online marketplace. Xbox bosses said that all 360 games planned to launch through Backwards Compatibility are taken through testing, which occasionally leads to games accidentally being made available. Presumably, Dark Souls' appearance on the store is due to a similar reason.
Dark Souls 3, the latest in the series, will release on 24th March 2016. It is available for preorder now.
Related Topics:
Dark Souls 3
,
Xbox One
---