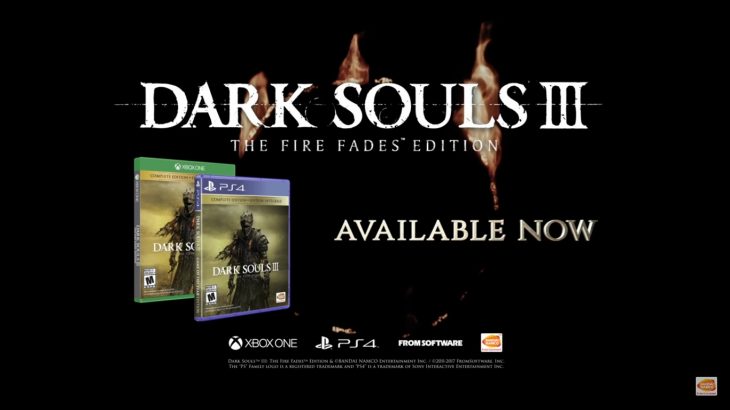 From Software, developers of the Souls series, revealed Dark Souls 3: The Fire Fades Edition. The edition collects the core game as well as its two DLCs into what many retailers are now calling Dark Souls 3 Game of the Year Edition.
The Dark Souls series is critically acclaimed for both its story and gameplay, though playing through them one would be forgiven for not noticing too much of a story. The games are renowned for their narrative being explored and explained through the world as players work through them.
The gameplay is incredibly challenging. All enemies, from the smaller minions who lurk in the shadows, to the colossal bosses larger than castles, have differing move sets and give the player no mercy. Many players find the game too hard to finish, reaching an early boss and giving up. Those who do persevere are rewarded with a deep satisfaction each time they defeat these bosses, bringing them back for more.
From the first to the third and final title, the story has been one of a dying world existing on the edge of extinction. Through each game the flame is fed by a soul strong enough to defeat its guardian, but it all ends in Dark Souls 3 according to From Software.
In Dark Souls 3 players were tasked with defeating the Lords of Cinder to their thrones and defeat the Soul of Cinder. Ashes of Ariandel takes players back to the painted world from the original Dark Souls game. The final DLC, The Ringed City, takes players to a collection of kingdoms where time is falling on top of itself. Here there is a boss that links to the first DLC, and potentially to the series as a whole.
The Souls games began with Demons Souls on Playstation 3, but Darks Souls is the game that grew the audience of the genre. Now Dark Souls 3 culminates the greatest Dark Souls experiences from current generation gaming. This edition is available for purchase now, and is perfect for all those looking to get into one of the best-loved series in gaming.