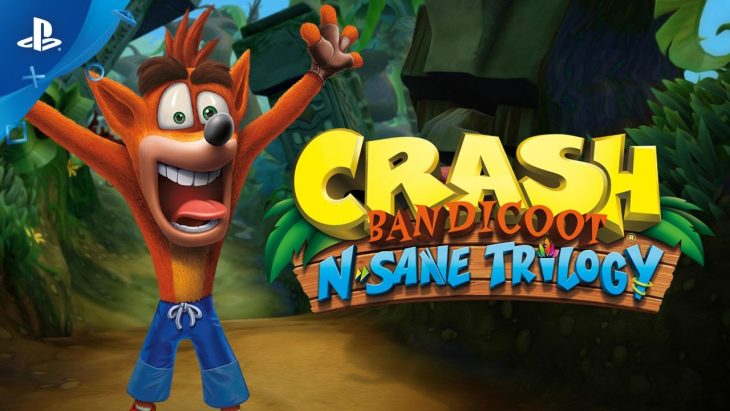 This week Sony revealed that Crash Bandicoot N.Sane Trilogy will not be a Playstation exclusive title, and will instead be coming to Playstation 4 and Playstation 4 Pro first.
When the game was first rumored a year ago that it may return, and then later announced in December 2016 at PSX everyone naturally assumed the game would be a Playstation exclusive title. The original Crash Bandicoot games have always been Playstation exclusives, so it would make sense that they stay close to the system they call home. A Tweet in response to a fan's question from Playstation Ireland confirmed this fact, though the Tweet was quickly taken down. Playstation Ireland then Tweeted a clarification, stating that the game will be coming to Playstation 4 and Playstation 4 Pro first.
For some the exclusivity of Crash Bandicoot isn't an issue. After all most of the best-selling games are multiplatform, and making a game available for everyone to play instead of a select group will help the publisher recoup costs and continue working on games their fans love. However, many see console-exclusive titles as a way to help companies sell their consoles. When you look at Uncharted series, The Last of us, or the Xbox One bundles containing Halo 5 and Forza Horizon 3, it's not hard to see that there is some truth to this.
Crash Bandicoot is one of the most iconic characters in Playstation history, alongside others like Lara Croft. Sony has come a long way since the original Playstation, and is selling more units of their latest console than Microsoft despite another classic Playstation exclusive, Tomb Raider, moving to release on Xbox One first. At this point in time it appears as though the Playstation 4 doesn't need more console exclusives to sell units when it has games such as Uncharted 4 A Thief's End, and Horizon Zero Dawn.
Crash Bandicoot N.Sane Trilogy brings together the first three Crash Bandicoot games, lovingly remastered for current generation consoles. Each game tasks the player will exploring a number of worlds, each with a number of levels to complete, collecting crystals, completing time trials, and beating bosses. The games have always been a completionists nightmare, with a number of collectibles in each level, requiring players to repeat them again and again just to earn one more crystal.
The game releases for Playstation 4 and Playstation 4 Pro on June 30th.