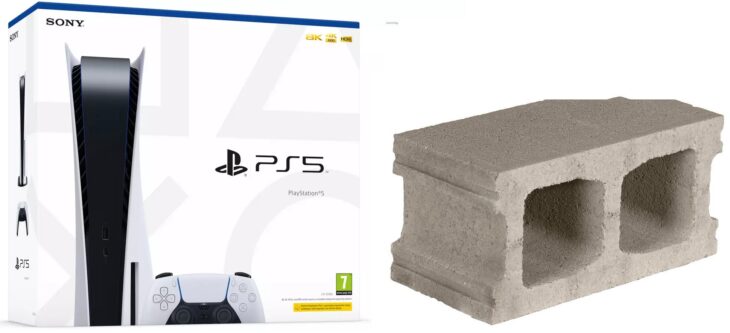 One consumer who paid $900 for a PS5 on eBay has complained because he says he received a concrete block instead.
The consumer, based in Orem, Utah, thought he'd managed to get his hands on the elusive console, probably through one of the resellers. However, when the product arrived, he claims it was instead a concrete block inside a PS5 box.
The Orem Police Department says that they expect the man to get his money back. Apparently this goes against eBay's buyer protections, so all funds should be returned.
This story is just one example of the issues caused by resellers buying up as many PS5 and Xbox Series X/S consoles as possible when they launched. Unless consumers managed to get a pre-order themselves, they've had to resort to buying a console at an extortionate mark up from one of these resellers.
Recently, eBay had to issue a warning to members over misleading listings. Some listings mention a PS5 picture, though the text is carefully altered to make it look like the listing is for a console. When consumers buy the product, and get a photo, the sellers argue that the listing had all the correct information.
The reseller site even took the action to remove all such listings when found. They also issued warnings to consumers that they should be suspicious and cautious over any and all rare and high priced item listings on their site.
The site also told consumers that they are entitled to a full refund if they receive a product that is not what they expected. Provided that the transaction was made through eBay.
Between stock availability issues caused by COVID-19, the high demand for these new consoles, and the group of resellers working together to purchase as many of them as possible, this year's console launch has been a mess.
While both Sony and Microsoft say that their launches were among the best in their history, it's hard to view this in a positive light when some units are being sold for a 200 percent markup. Or worse yet, consumers get a brick in the mail when they paid for a console.