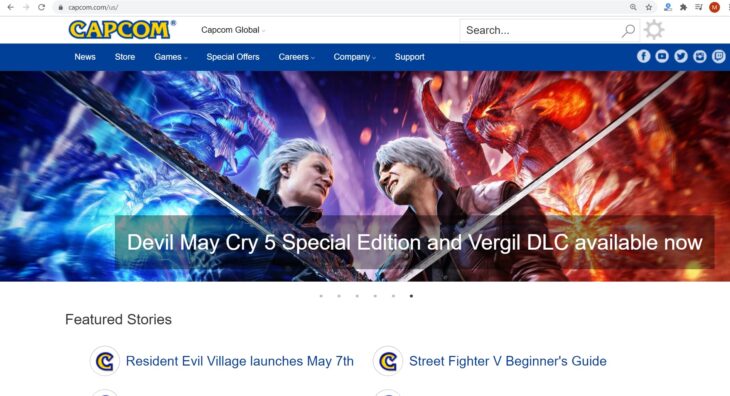 The US version of Capcom's online store is set to close. Anyone visiting the store at the time of writing is greeted with a message at the top of the screen informing them that the store will close on May 1, 2021.
A message on the store also tells users that the owners are extremely thankful for all of the support they've had from Capcom. They add that supplies are limited, so anyone wanting to make an order should do so sooner rather than later.
An FAQ page confirms that returns and exchanges will still be accepted until the closure date of May 1. What happens beyond that point isn't known. However, it's likely that this early warning indicates that returns and exchanges won't be accepted beyond that date. At least not in the US store, making for an awkward returns policy in the short-term.
Reports that the store would close emerged earlier this week, and now Capcom has officially confirmed the news.
The reason that the European version of the store isn't closing could be down to those running it. As it says on the store itself, it's run by a division of Germany-based Gaya Entertainment called Game-Legends.
In a statement to GamesIndustry.biz, a representative from Capcom explained that while Capcom USA won't be operating a store any longer, the publisher is going to continue to work with licensing partners in order to release merchandise based on Capcom IPs.
The US Capcom store offered loads of products based on Capcom's IPs such as Resident Evil and Monster Hunter. However, the real draw was the opportunity to earn points and spend those on real-life products, something which doesn't seem set to continue.
Whether this closure is a result of the pandemic is unknown. It would make sense for Capcom to consolidate its business if it's not selling well. However, the full closure of a well-established store doesn't make sense unless there's a replacement coming soon. With the imminent launch of Resident Evil Village, and Monster Hunter Rise gaining traction, the store closure seems to come at an odd time.