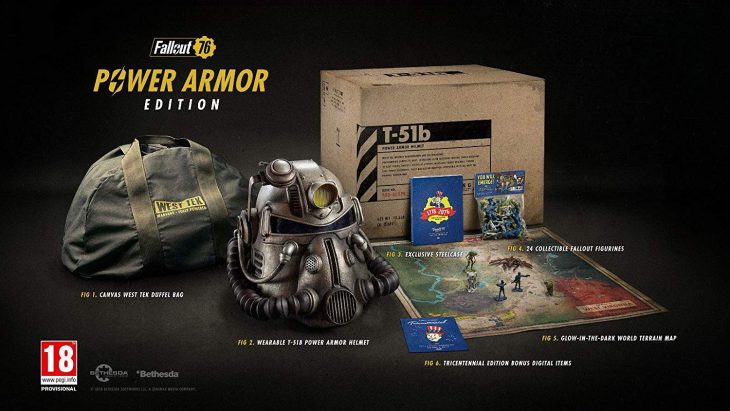 Bethesda have confirmed that they will be providing replacement bags to all Fallout 76 Power Armour Edition owners in the wake of a different bag than what was advertised being sent out.
Recently Bethesda were criticized for providing a different bag to the one advertised in product images of the Fallout 76 Power Armour Edition. In product images a bag made of canvas material is clearly shown, while what consumers received was a nylon bag.
Bethesda first responded to the consumer backlash by offering $5 worth of in-game currency. However this gesture was quickly countered by fans pointing out how this wasn't even enough to purchase the in-game outfit that comes with the canvas bag depicted on the product image.
Today Bethesda has announced via their official Twitter account that they will provide replacement bags for fans who are entitled to one. They have released a Power Armour Edition Bag Replacement Form which allows consumers to fill out their request for a canvas bag. All submissions are required by the 31st of January 2019, and Bethesda have not confirmed when the replacement bags will be sent out to the entitled consumers.
The publisher have said that they are still finalising manufacturing plans for the bags, and will be able to send them once they are ready. This news will only add fuel to the fire, as it shines a light on the fact that these canvas bags were never produced for Fallout 76 Power Armour Edition.
Fallout 76 has had a troubled launch. The game released with a number of bugs and glitches that cause many players a log of grief. The game still has issues today, but Bethesda are working as hard as they can to fix them and release updates on a regular basis.
The Power Armour Edition issue relating to the nylon bag provided has drawn the attention of a legal firm in Washington DC. This effort to rectify the issue for clearly dedicated fans of the Fallout franchise may well have been brought about because of the threat of potential legal action relating to advertising standards.