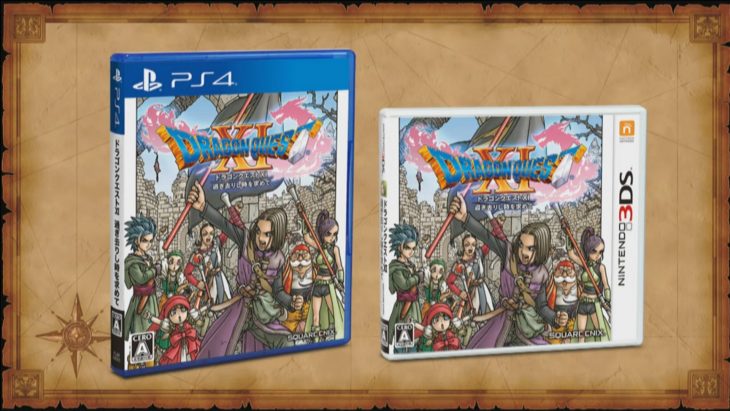 Famitsu have released the latest figures for video game sales in July, showing which games sold the most over the month, some of which were only released well into July.
Most interestingly of all is Dragon Quest XI: Echoes of an Elusive Age, which is top of the chart despite only being available for two days at the end of July due to its release date of July 29th. The game sold 1.1 million copies of the 3DS version within the first two days of sale, and the Playstation 4 version sold 950,000 copies over the same time period. This means that the game sold over 2 million copies in just two days.
Splatoon 2 became the fastest-selling Nintendo Switch game after selling 800,000 copies over the month, securing it third place in the chart. Gundam Versus came in fourth selling 145,000 units, showing a huge gap in sales numbers between the top three best-selling games and the rest of the chart.
Final Fantasy XII came in seventh position selling 124,000 units, and Hey! Pikmin came in fifth with over 100,000 units sold in the month. A new entry in eighth position is Kenka Bancho Otome: Kanzenmuketsu no My Honey for Playstation Vita, which sold 7,304 units, and Wagamama High Spec for Playstation Vita which came in at tenth position selling 4,919 units.
With these numbers Square Enix was able to secure the top place in the publisher chart for revenue, holding 57.2 percent market share, generating £1.05 billion in revenue. The last time a publisher generated more than £1 billion in a month was Capcom in December 2010. Nintendo came in second place in the publisher chart with 23.4 percent market share, generating £44 million in revenue over the month.
The full list of best-selling games in Japan for July 2017 is as follows:
1. Dragon Quest XI: Echoes of an Elusive Age (3DS) – Square Enix
2. Dragon Quest XI: Echoes of an Elusive Age (PS4) – Square Enix
3. Splatoon 2 (Switch) – Nintendo
4. Layton's Mystery Journey: Katrielle and the Millionaire's Conspiracy (3DS) – Level-5
5. Hey! Pikmin (3DS) – Nintendo
6. Mario Kart 8 Deluxe (Switch) – Nintendo
7. Final Fantasy XII: The Zodiac Age (PS4) – Square Enix
8. Kenka Bancho Otome: Kanzenmuketsu no My Honey (Vita) – Spike Chunsoft
9. Sumikko Gurashi: Koko, Doko nan desu? (3DS) – Nippon Columbia
10. Wagamama High Spec (Vita) – iMel