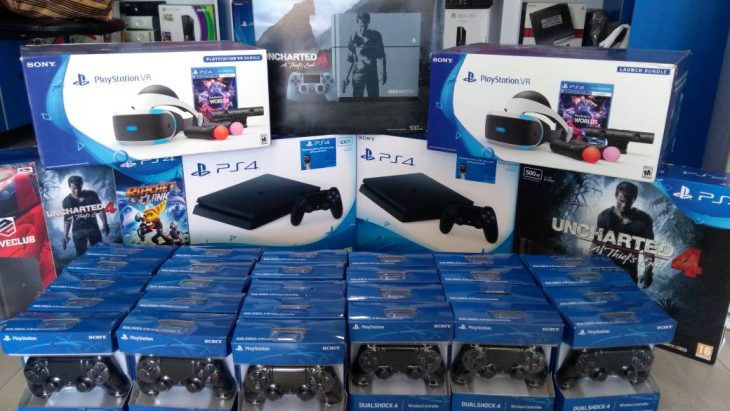 Gamespot has assembled a list of hot selling PS4 hardware items that can be best presents to gamers this Christmas. Many of these items are in stock of our featured wholesale video game distributors, but things are moving very fast, so please contact them soon to secure your stock.
The following items are worth to keep in stock for sale this holiday season.
PS4 Slim – $250 to $300
This is the entry level gift for those who haven't already got themselves a games console. The PS4 Slim is sleek and more than just a games console: it can be used to play DVDs/Blu Rays, stream music, surf the net and view movies on Amazon, Netflix and other streaming services. With prices starting as low as $250 and new games like Star Wars: Battlefront II and Call of Duty: WWII packaged with the console it'd be a welcome gift for many.
PlayStation 4 Pro – $350 to $450
Those looking to go a step further (for that really special someone) might want to plump for the PS4 Pro. The Pro runs all standard PS4 games but possesses 4K capability so is your go to if you want the best graphics available. You can expect to pay around $100 more for the Pro.
PlayStation VR – $350 to $450
Virtual reality has been hailed as the future by many and is capable of providing experiences no other medium can. Sony's PSVR is significantly cheaper than its PC competitors the Oculus Rift and HTC Vive so could be the perfect introduction to a whole new gaming dimension for a relative who already has a PS4. PSVR is currently available in a bundle pack with Skyrim VR, arguably the biggest and most exciting game currently playable on the device.
WD My Passport 2TB USB 3.0 External Hard Drive – $80
Do you know someone who has been complaining that they're running out of storage space on their PS4? It's a common problem with a simple solution – one of these external hard drives capable of bulking up the system storage. It may not be the most glamorous gift but it could be one of the most appreciated.
PlayStation Plus 12-month Subscription – $60
Online gaming is more and more popular and PS4 owners can only get involved if they've got an active PlayStation Plus subscription. Buy it for them and welcome them into the world of online gaming – where you can then beat them repeatedly at FIFA!
SCUF Infinity 4PS Pro Controller – $130
Those who take their online gaming extremely seriously may enjoy the SCUF Infinity 4PS Pro Controller which offers a range of customisation options that could provide them with a competitive edge. One for the semi-pro gamer in your family.
TCL 55P605 4K HDR TV – $600
If you're prepared to shell out big bucks this 4K TV will surely be opened with a smile. Console gaming is moving into 4K resolution and only those with compliant TVs can gain the benefits. This would be a great gift for someone with a PS4 Pro or Xbox One X who lacks a TV as cutting edge as their console.
Buy Wholesale
Many of these items are still available at selected wholesale distributors.
Related Topics:
Christmas
,
PS4
---