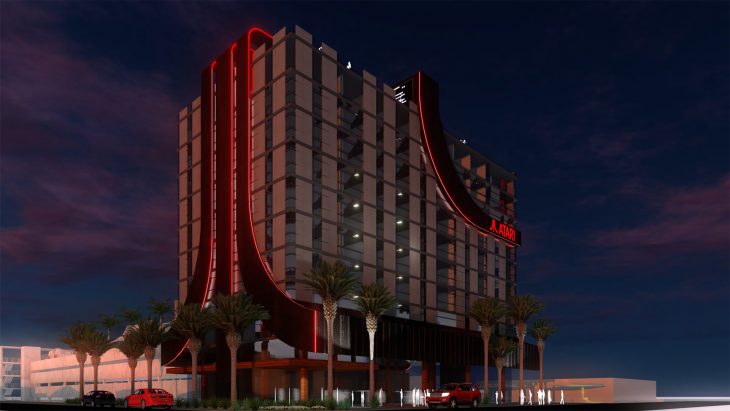 Even though the company is still working hard on their next console as part of their comeback, they're also trying to make themselves more relevant once again with a brand new hotel chain.
Earlier this week Atari announced a partnership with GSD Group, a strategy group, to build eight Atari hotels around the US. the first of these hotels is planned to appear in Phoenix, Arizona, with the assistance of True North Studio, a real estate developer. Further locations are also planned, including Chicago IL, Las Vegas, NV, Austin TX, Denver, CO, San Jose, CA, San Francisco, CA, and Seattle, WA.
While the hotels themselves look like enough of a gimmick, there's much more planned than just a quirky appearance. Within each hotel there will be virtual reality and augmented reality experiences for guests to use.
It's been reported that some of the eight hotels will also have additional functional areas outside of the hotel space. These areas will be used for hosting esports events, as well as other gaming events, providing huge spaces for companies in the industry to take advantage of that are themed around the products and experiences they will be showcasing.
Napoleon Smith III, GSD Group Partner, explained that Atari was the obvious choice for this new hotel concept. The company combines the nostalgic appeal of older gamers with cutting-edge technology and games that younger, more modern gamers enjoy. It's also thought that staying inside an Atari console is probably one of the highest priorities on any gamer's bucket list.
These hotels will open up new opportunities for companies to combine their esports and gaming events with accommodation that couldn't be more appropriate. The mere fact that they're being created shows that there's obviously a big appeal to them, but only time will tell just how popular they prove to be, or if the gimmick wears off fast.
Atari is currently working on its latest console, the Atari VCS. The console is planned for a March 2020 release window, and brings a host of classic Atari games to consumers within a console that can also be used for game streaming for years to come.