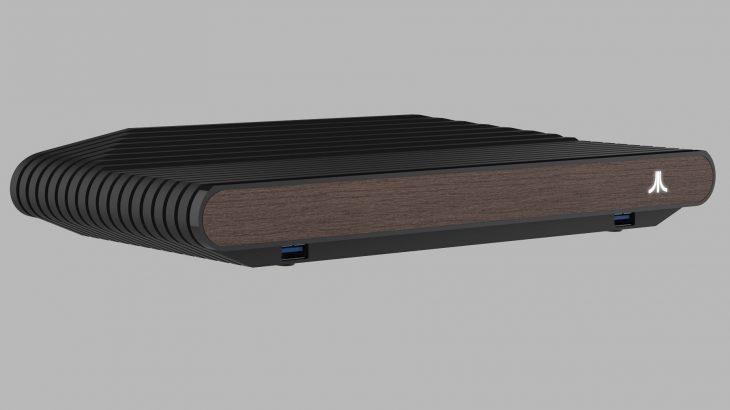 Pre-sale for Atari's upcoming console have started in the US, ranging from $250 to $390 depending on which version consumers order.
The Atari VCS is set to launch in March 2020, but is now available for pre-order from the product's official website. Consumers can also pre-order the console from Gamestop or Walmart.
There are currently three options for pre-ordering the Atari VCS, with two different versions available and a third bundle outside of those. The console comes in three different colours; a brown wood grain, a black finish that matches the rest of the unit, and a chequered yellow finish.
The two different versions of the console are the 4GB and 8GB models. The 4GB model costs $249.99, and the 8GB version can be pre-ordered for $279.99. Walmart and Gamestop have their own exclusive colours for the 8GB version of the console, with a bundle including a Classic Joystick Controller as well as a Modern Controller for the Atari VCS.
Bundles, which include the two controllers, cost $389.99 to pre-order, but the controllers are available to purchase separately as well. The Classic Joystick Controller can be purchased for $49.99, and the Modern Controller costs $59.99.
The Atari VCS contains an AMD Ryzen processor which is capable of streaming games at 4K HDR. New, classic, and remastered Atari games can be played on the console, but it's also capable of multimedia streaming. Each console ships with the Atari Vault, which packages together 100 Atari home titles and arcade classics from the extensive library of Atari games.
Details on distribution outside of the US are expected to be confirmed later this year. At the moment there's no further news on other games coming to the Atari VCS. However, the console is different to other mini consoles in that it isn't exclusively a classic console with purely retro games. It therefore stands to reason that new games and features will be rolled out for the console in the future.
The Atari VCS is one of the first new consoles to use a completely retro aesthetic. With more products following suit, such as Panic's Play Mate, it seems as though the modern-retro market is set to see some serious growth in 2019.