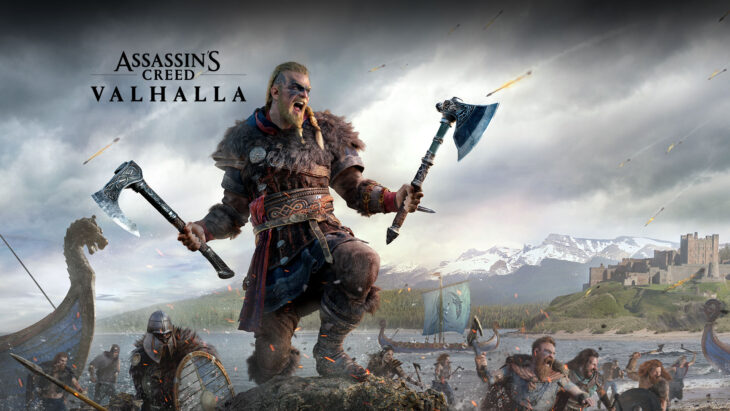 Assassin's Creed Valhalla has just managed to scrape it in as the best-selling game at retail in the UK for the last week before Christmas. This is the first time that a game in the series has topped the chart at Christmas, as well as the first time for a Ubisoft game period. It's also only the third time that a non-FIFA or Call of Duty game has been the Christmas best-seller in the past 15 years.
Sales for Assassin's Creed Valhalla are up by 66 percent week-on-week. This is thanks to a 20 percent discount promotion with many stores. Call of Duty: Black Ops Cold War may be the second best-selling game for the week, but it still sold as many units as it did the previous week. This is also the first Black Ops sub-Call of Duty series entry not to have the Christmas top spot.
Sales for Cyberpunk 2077, which was top of the charts last week, dropped by 80 percent week-on-week. The game is currently sitting in third place. However, both The Last of Us Part 2 and Assassin's Creed Valhalla saw similar sales drops the week after their launches.
The key difference here has been widely reported. Cyberpunk 2077 is in a bad state, with bugs and glitches at every turn. Press has been poor at best, and so many consumers have requested refunds that Sony has delisted the game from the PlayStation Store. This negative press is likely to have a larger impact over the coming weeks and months, even when the game begins to look like it's in a better state.
FIFA 21 rose one place to fourth this week, despite sales rising by an impressive 40 percent week-on-week. Animal Crossing: New Horizons dropped to fifth, with sales down by 11 percent week-on-week. The game is still selling well though, and this is the first drop the game has seen in a month.
Only 9,000 units are sat between Assassin's Creed Valhalla and Animal Crossing: New Horizons this week.
Spider-Man: Miles Morales jumped up to sixth place thanks to sales rising by 45 percent. Ring Fit Adventure re-enters the top ten in ninth with sales up by 155 percent. Super Mario 3D All-Stars rounds out the chart in tenth once again, though sales are up by 44 percent week-on-week.
Ubisoft's Watch Dogs Legion and Immortals: Fenyx Rising saw sales rise by 98 percent and 104 percent respectively outside of the top ten. Interestingly, Carnival Games' sales moved up by 499 percent, pushing it up to thirty-fifth place.
Finally, The Last Of Us Part 2 is back in the top 30 with sales up by 374 percent week-on-week, and Ghost of Tsushima's sales are up by 208 percent, landing it in thirty-fourth place.
The top ten best-selling games in the UK at retail for the week ending December 19, 2020: