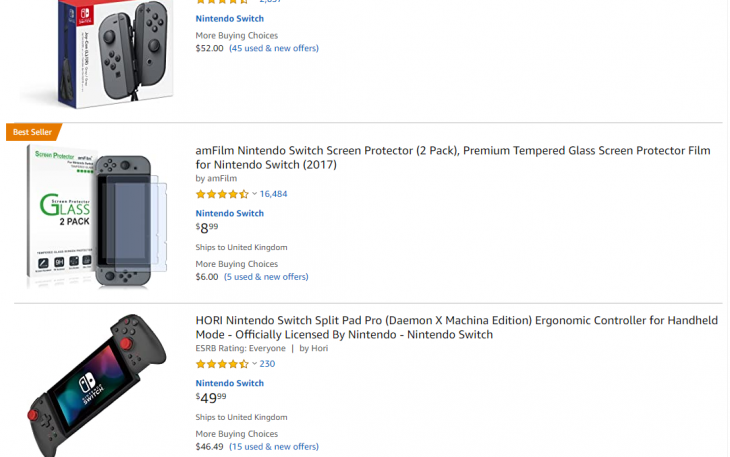 Update: ARS Technica has received an update from Amazon informing that their decision for blocking listings has now been reversed:
Yesterday's email [to third-party Amazon sellers] was sent in error, and all impacted listings were reinstated within hours.
Original article:
Amazon has begun to clamp down and block sellers who are reselling unauthorized Nintendo products through their platform.
An email shared with sellers via the site's Seller's Forum shows that anyone offering Nintendo products through Amazon must now have permission from the platform holder before they can continue with any future transactions.
The email also contains a point that tells sellers that their Nintendo product listings will be removed if they don't obtain permission from the company before the 31st of October 2019. Amazon says that this new requirement is part of the company's efforts to provide the best possible service to their customers.
However, it's currently unclear why Amazon has put this requirement in place. GamesIndustry.biz has contacted both Nintendo and Amazon in order to ascertain the reasons, but so far there has been no comment from either company.
In addition to this email to all sellers with current Nintendo product listings, Amazon sent a separate correspondence to those who have previously sold Nintendo products. To these sellers they explained that there will be no ramifications for these sales since they were made prior to Amazon's new requirement.
As pointed out by Ars Technica, only products with Nintendo listed as the producer are affected by this requirement. This means that it will be difficult for sellers to offer first-party Nintendo games, classic titles, and official Nintendo Switch products. However, the requirement doesn't affect the sales of third-party games and hardware such as accessories.
This isn't the first time Amazon has cracked down on resellers. A similar requirement is in place for Apple products and DVDs, all of which require manufacturer's approval. Amazon also cracked down on used and collectible items on the site, but many sellers claimed they could get around this by listing their items as new.
Amazon is a huge marketplace, so it's reasonable to see why sellers would offer everything they can, from socks to official Nintendo merchandise. Nintendo has been clamping down on where their products are sold, outside of official retailers, and many other aspects of their games such as how they are streamed on YouTube or Twitch. This new requirement is most likely one more way that Nintendo is trying to ensure their products aren't sold by sellers they don't trust.