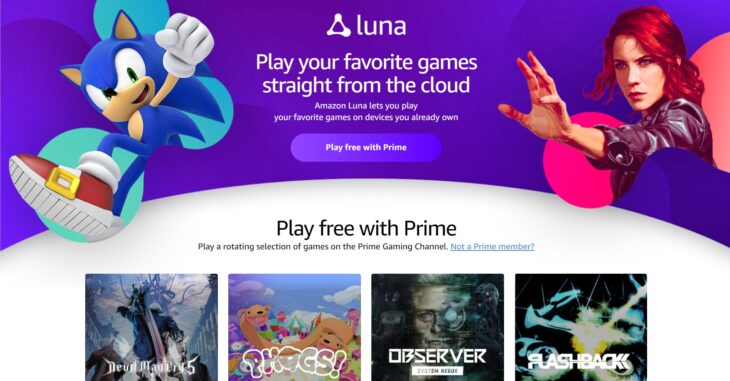 A new streaming service from Amazon called Luna just left its invite-only early access period and officially fully launched in the US.
Amazon has also just unveiled numerous platform features such as the Twitch integration intended for streamers and free video game titles for Amazon Prime members.
Similar to Prime Video, Luna now features three new channels that more or less serve as subscription tiers that users can choose to subscribe to on a monthly basis.
The first of these channels is Prime Gaming which allows Prime Members to play a selection of free video games that change every month. The other two channels are the Retro Channel which provides access to a number of classic games, and the Jackbox Channel, which offers a selection of party games. Users can subscribe to both of these channels for $4.99.
In addition to these, there is also the Luna+ Channel priced at $5.99 as well as the Ubisoft+ Channel that offers a collection of Ubisoft titles for a price of $17.99.
As mentioned above, Luna allows streamers to connect their Twitch and Luna accounts and directly broadcast their gameplay if they are playing it on Luna.
Daniel Rausch, the VP of Amazon Entertainment Devices and Services said that Luna harnesses the power of the cloud and enables customers to instantly play high-quality, immersive games on the devices that they already own. He further said that the company is excited to make Luna available to all customers in the mainland United States, offering Prime members the unique opportunity to play free games, and content creators the use of the new Twitch broadcast feature as well as the broad lineup of video game titles for all gamers to enjoy.
Amazon has been making a huge push into the gaming industry, and last year, Andy Jassy, the chief executive at Amazon, infomed that he believes games could become Amazon's biggest entertainment category.
Amazon has partnered up with a Korean developer Smilegate in order to bring the RPG Lost Ark to the western market. The title became an instant success in the west and was among the most-played video games on Steam during its first week.