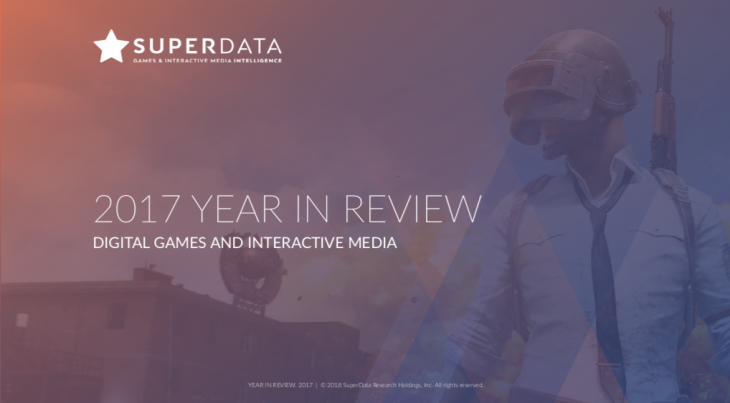 SuperData today published their report showing the year of 2017 for digital games and interactive media in review.
The report shows that 2017 was one of the biggest years for interactive media and digital games, with cross-platform gaming, gaming video content, esports, and virtual reality diversifying the market and leading to growth that shows no signs of stopping as we enter 2018.

Across PC and mobile platforms one in three people are playing free-to-play games. The free-to-play genre has grown exponentially, generating $82 billion over the PC and mobile markets. As more free-to-play games like PUBG and Fortnite make the move to console this revenue can only increase.
Mobile game spending was up by $14 billion in 2017 compared to 2016. Games like Fantasy Westward journey from NetEase and Arena of Valor from Tencent did their part in the 31% growth the segment has experienced in the mobile market worldwide.
| Rank | Title | Publisher | Revenue |
| --- | --- | --- | --- |
| 1 | Grand Theft Auto V | Rockstar Games | $521M |
| 2 | Call of Duty: WWII | Actvision | $502M |
| 3 | FIFA 17 | EA Sports | $409M |
| 4 | Destny 2 | Activsion | $329M |
| 5 | FIFA 18 | EA Sports | $324M |
| 6 | Battlefield 1 | EA Games | $301M |
| 7 | Call of Duty: Black Ops III | Activision | $248M |
| 8 | Tom Clancy's Ghost Recon: Wildlands | Ubisoft | $221M |
| 9 | Call of Duty: Infinite Warfare | Activision | $201M |
| 10 | Tom Clancy's Rainbox Six: Siege S | Ubisoft | $172M |
PLAYERUNKNOWN'S BATTLEGROUNDS, also known as PUBG, continues to be a roaring success, generating $712 million in revenue in the eight months it's been on the market. The game is causing an explosion in the Battle Royale genre, with more titles such as Knives Out releasing to take advantage of the interest. Epic even added the mode to their free-to-play title Fortnite, which has become one of the most popular Battle Royale games on home consoles.
Esports is growing fast and looking like it will be a billion dollar business over the course of 2018, with $756 million in revenue generated in 2017. More than 258 million viewers flocked to watch tournaments for League of Legends and Overwatch, a number that's sure to be beaten in 2018 with around 425,000 viewers tuning in to watch the first Overwatch tournament of 2018.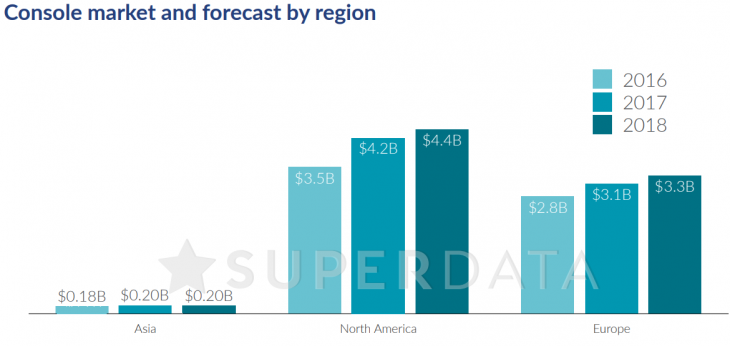 A price cut in virtual reality technology seen across the board drove revenue up by 37 percent in 2017. After the price reduction the Oculus Rift managed to outsell the HTC Vive, while in the console market gamers have enjoyed a bounty of great VR games in the form of Resident Evil 7: Biohazard, and Skyrim VR.
In gaming video Twitch has 54% of the market, attracting an audience who are more willing to spend money to support the creators they watch. YouTube on the other hand has seen a revenue drop of 50 percent year-on-year due to a number of creators making worldwide news with certain videos that drove away advertisers.