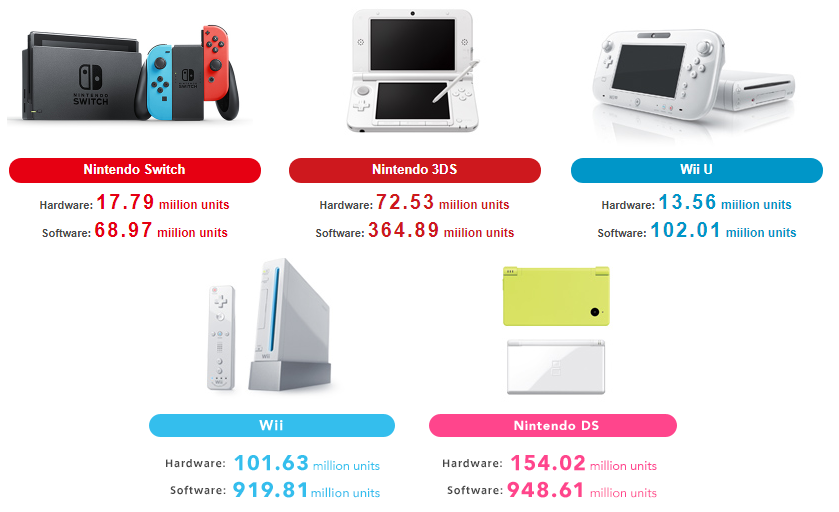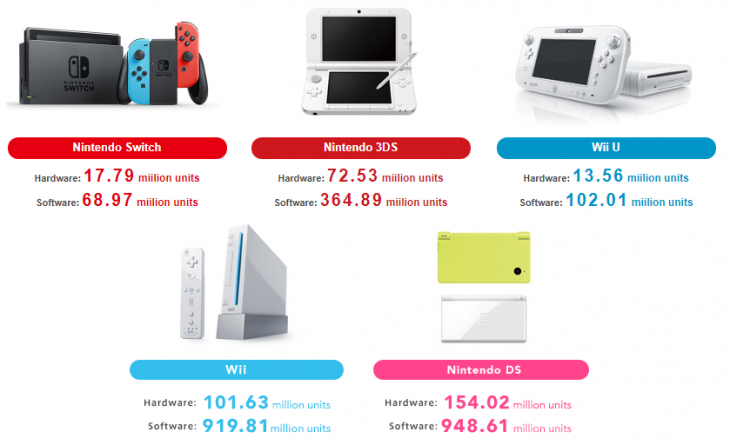 Nintendo updated their records for lifetime shipments of 3DS and Nintendo Switch units up until March 31st 2018. A huge number of units for the Nintendo Switch have shifted in the last three months, bringing the total up to 17.79 million, while the 3DS stands at 72.53 million shipped units.
When Nintendo updated their records they published an infographic displaying the numbers of units shipped, as well as software units shipped up to March 31st 2018. The image shows the lifetime shipped units of the Nintendo Wii U at 13.56 million, which the Nintendo Switch has already beaten by around 4 million units.
The data shows that around 2.93 million Nintendo Switch units must have shipped in the last three months of the time period, the first three in 2018, and about 15.05 million over the course of the past fiscal year. Nintendo's predictions were correct and have only been exceeded by 50,000 units, though they revised their estimations a few times during 2017 to coincide with the apparent popularity of the console.
The numbers of shipped units for the Nintendo Switch are very impressive, and show that it's on track to compete with the last most-popular console from Nintendo, the Nintendo Wii. The period of time from the launch of the Switch until March 31st 2018 is roughly a full year, and in the first year on sale the Nintendo Wii shipped 20.13 million units. Given that there were two stock shortages, at which point less people could buy a Nintendo Switch online or otherwise, the console has still shipped a comparable number of units. However at this point it's hard to say whether it would have beaten the Nintendo Wii in numbers if there were no stock shortages.
The next milestone for the Nintendo Wii in units shipped was in its second year, when it hit 44.96 million units shipped, more than doubling year one shipments. Should the Nintendo Switch continue to grow in popularity, and enough consoles are made available, it could well show increased momentum and at some point out-pace the Nintendo Wii.