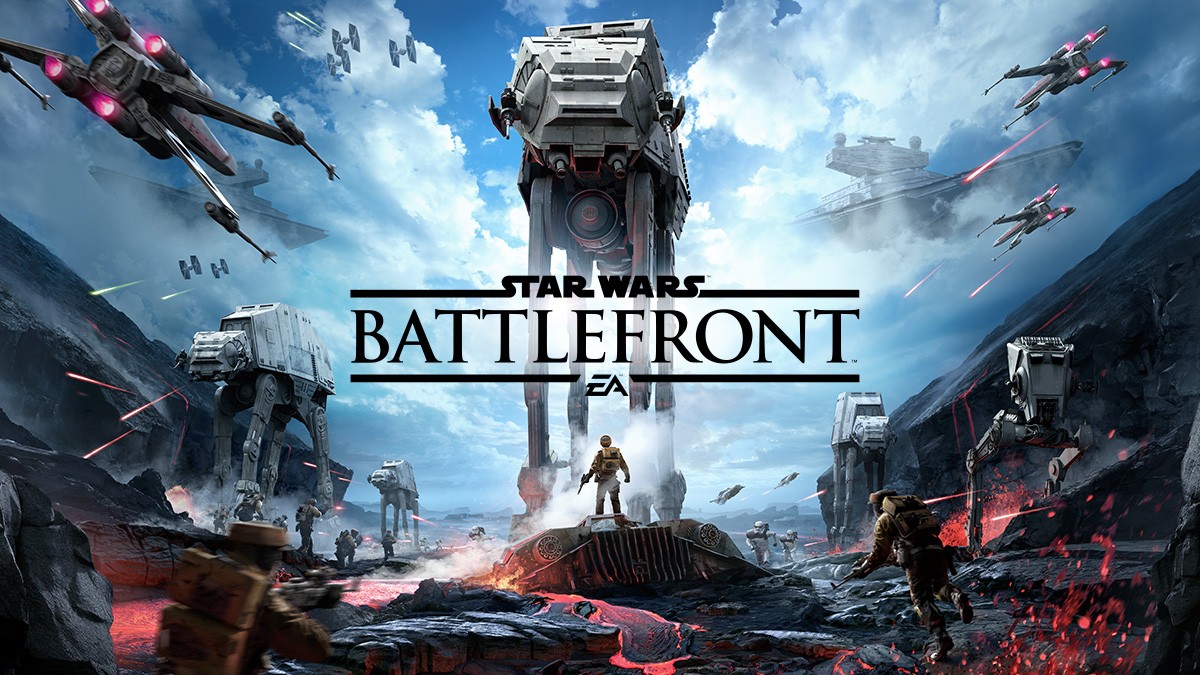 Overall reception: Mixed – exceptional Star Wars spectacle, but less than great gameplay and depth
| Reviewer | Score |
| --- | --- |
| Metacritic (aggregator) | 73/100 |
| Amazon (customer reviews) | 2.6/5 |
| Gamespot | 7/10 |
| IGN | 8/10 |
| Trusted Reviews | 7/10 |
| Aggregate Score | 6.9/10 |
DICE's Star Wars: Battlefront combined the developer's expert FPS skills—honed by the Battlefield series—with the Star Wars franchise. The third game in the series, Battlefront is counted as a reboot of the old games which released on the PS2/Xbox generation. For its expectations, Star Wars Battlefield received somewhat poor reviews compared to DICE's other games, tallying 73 and 5.0 from critics and users, respectively, on Metacritic.
IGN's review of Battlefront praised the way the game captured the spirit and atmosphere of the Star Wars film franchise, but criticised the game itself. Battlefront was said to have 'an immaculate level of detail' with a 'stunning visual fidelity'. Particular praises were given to the 'exceptional aesthetics' and the 'incredible audiovisual experience [that] is so convincingly authentic'.
The game was also praised for its recreations of classic Star Wars locations such as Endor, Hoth and Sullust. However, Battlefront was let down in IGN's eyes for being unfocused and having an excess of game types with no single player campaign.
GameSpot also praised Battlefield's homages to the Star Wars franchise. The massive scale, iconic planets and John Williams' memorable orchestral accompaniments were said to transform the reviewer back to a child watching Star Wars for the first time. The sound design of ambient noises and warfare were of particular note, as were the 'nuanced, detailed worlds'.
Gameplay in Star Wars Battlefront left something to be desired, however. GameSpot referred to it as a 'shallow experience', although modes like Heroes vs. Villains and Walker Assault were highly praised. The reviewer summed up Battlefront as 'an exercise in pure spectacle' that 'doesn't go much deeper than its ambitious surface appeal'.
Techradar's review was equalled mixed. While described as 'about as authentically Star Wars as possible', while also not having an awful lot else to appeal to non-Star Wars fans. The lack of actual content within the game was balanced out by the loving recreation of Star War's locations, sound FX and music.
Gamesradar's review also followed suit. They described Battlefront as 'brilliant, authentic Star Wars experience' with DICE's trademark top quality FPS gameplay. However, Gamesradar also complained about the lack of single player content and limited wide-ranging appeal.
To sum up, all reviewers greatly enjoyed the Star Wars aspects of Battlefront, which were described as one of the best videogame reproductions of the sci-fi series. The game was consistently let down by a lack of content and long lifespan typical of other major FPS series.