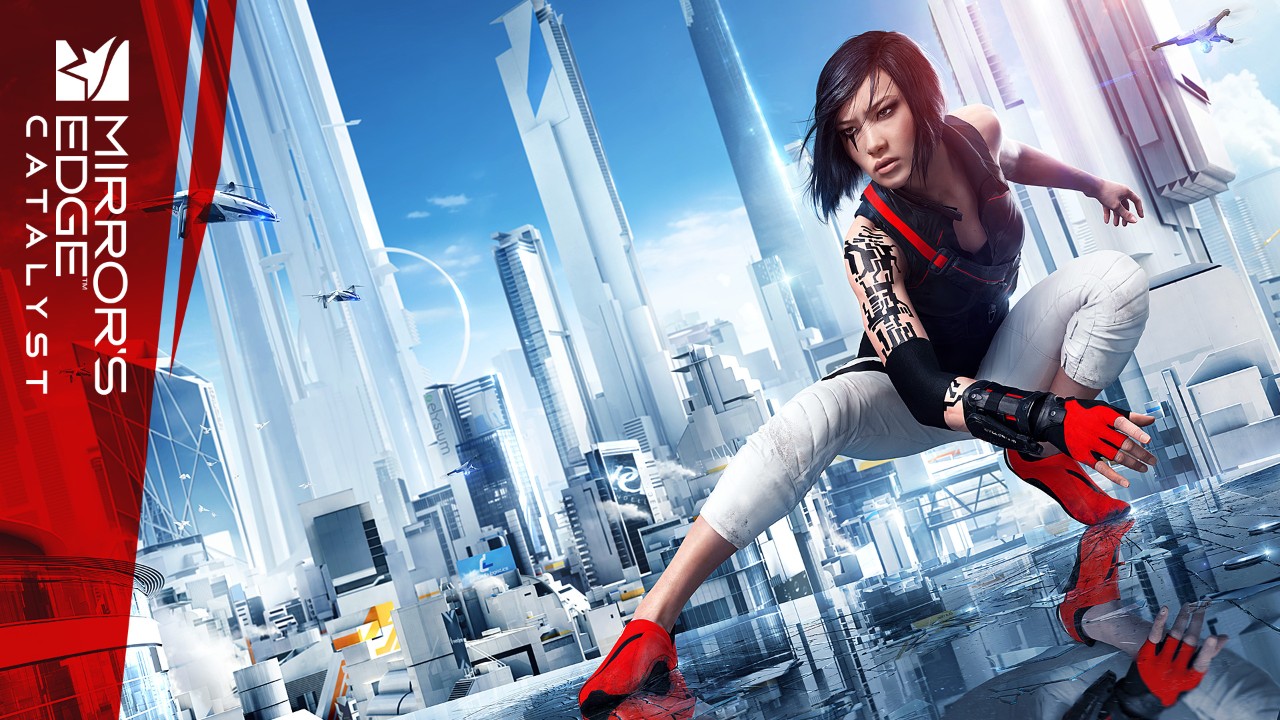 Overall, Mirror's Edge Catalyst offered critics a fresh gameplay experience in a well designed city that can be traversed with excellent parkour mechanics, but lacked the story, character and heart to provide a truly fulfilling gaming experience.
| Reviewer | Score |
| --- | --- |
| Metacritic (aggregator) | 70/100 |
| Amazon (customer reviews) | 4/5 |
| Time | 4/5 |
| IGN | 6.8/10 |
| Games Radar | 3/5 |
| Polygon | 8/10 |
| The Guardian | 3/5 |
| Aggregate Score | 7.1/10 |
Electronic Art's action-adventure reboot Mirror's Edge Catalyst was released on June the 7th on PlayStation 4, PC and Xbox One. The game follows the adventures of Faith Connors, who uses her parkour skills to traverse the towering skyscrapers of a futuristic city controlled by ruthless corporations who employ mass surveillance to keep the population under control.
Faith and fellow free-runners fail to comply, but can they successfully defy the city's rulers? Perhaps more importantly, will players of the game have a good time doing so?
Let's take a look at the critical reception of the game so far.
Metascore of 70. Review aggregator Metacritic currently list the PlayStation 4 version of Mirror's Edge Catalyst with a metascore of 70/100. This indicates "mixed or average reviews" and is based on 32 individual review scores allocated to the game. Of these 32 reviews 17 were classed as "positive" by Metacritic, 15 were considered "mixed" and no reviews were considered "negative."
IGN: "Mirror's Edge's return shines in some regards, but is ultimately a disappointment."
Time.com were among those who were positive about Mirror's Edge Catalyst. Awarding the game 4 stars out of 5 they highlighted its uniqueness. "Nothing else looks or plays like Catalyst," they noted, praising the free-running possibilities of the game and its open world. They did, however, note that the story is less than engrossing and feels like filler in comparison to the multitude of side-quests and challenges that open up as the player freely explores the city.
IGN were slightly less generous towards the game. Awarding it a score of 6.8 out of 10 they joined Time in praising the game's "movement systems," but were even less impressed with its story, which they called "thin and predictable." IGN also highlighted the lack of character and life in the game: "Character development is nonexistent, and worse, everyone – including Faith herself – is completely unlikable."
TIME: "Mirror's Edge Catalyst's Fiction Fails but Its Gameplay Is Stellar."
The Guardian awarded Mirror's Edge Catalyst 3 stars out of 5 and felt that it echoed its 2007 predecessor Mirror's Edge – a unique concept with fluid gameplay whose "niggles stop it achieving greatness." They praised the design of the city and the movement mechanics of Faith – with the proviso that slight imprecisions in her movement are punished too heavily, resulting in frustrating deaths.
GamesRadar also awarded Mirror's Edge Catalyst 3 out of 5 stars. In praising the game's "well executed free running mechanics" and its "beautifully stylised city" they added to the consensus about the game's strengths, but echoed concerns over the story and felt that there was an emptiness about the city that left the player feeling slightly hollow, too.
Polygon recognised that Mirror's Edge Catalyst was "flawed" but awarded it a score of 8 out of 10. Their praise for the free-running mechanics of the game and their observation that its setting is more memorable than any character seems to exemplify the view of critics on the title.