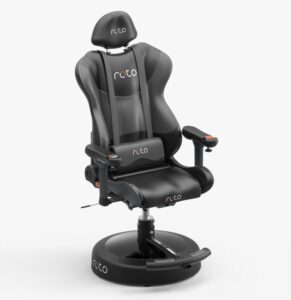 Barcode:
5060761650048
Average Wholesale Prices:

For Annual Members only. Register to get access.
Selling Potential:

8/10
Release Date:
February 1, 2020
Aggregate Reviews:
Take your VR gaming to the next level with the Roto VR Chair.
Work, rest and play in comfort with the ergonomically designed Roto Seat, complete with integrated rumble technology and interactive foot pedals for the ultimate immersive experience.
Roto VR Features:
Explore 360 degrees in virtual reality without cables tangling
Motorised features enhance and transform all types of VR experiences
Roto VR Head Tracker enables 360 degrees exploration in complete comfort
Feel the experience with Roto VR Simulator Double Rumble Packs
Additionally you can purchase the Roto's accessories to enhance your VR experience.
Walk (whilst seated) using the Roto VR Touch Pedals
Full HMD compatibility and upgradable with Roto VR Cable Magazines
Cable Magazine upgrades coming soon.
Compatible headsets are: HTC Vive, Oculus Quest, Oculus Go, Oculus Rift CV1.
Motion sickness resolved for over 90% of people
Roto VR's internal tracking provides decoupled VR experience
Discover gravitational presence in the virtual world
Roto VR incorporates over 20 different technologies (patents pending) and is the result of years of R&D from an experienced team of technology and games industry professionals.
VR emergency button included also includes built in safety features.
"Ultimately we wanted to create something that adds value to every type of VR experience." Elliott Myers Founder of Roto VR