Colors: Black/Grey/Orange (one colour)
Platform: PC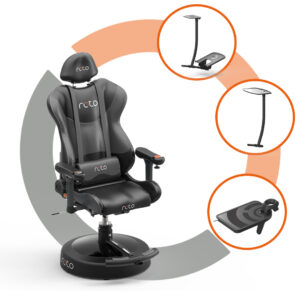 Barcode:
5060761650024
Average Wholesale Prices:

For Annual Members only. Register to get access.
Selling Potential:

8/10
Release Date:
February 1, 2020
Aggregate Reviews:
Contact the Manufacturer: info@rotovr.com
Accessories bundle includes:
– Racing Pack
– Side Tables
– Desktop Table
---
Find Suppliers
For Annual Membership registered members. Please

Sign Up

or Register.
---
Product Description:
Accessories Bundle
Add to your VR experience on the Roto VR chair with our Accessories Pack which includes the below:
Racing Pack
Fans of racing games have longed for the ultimate VR experience. This is it!
Bring your steering wheel and pedals into the VR experience with the Roto VR Racing Pack, designed to slot into the base of the Roto VR chair.
Whilst the fixings can support most standard wheels and pedals, Roto VR has been specifically designed to support the T150 Force Feedback wheel from Thrustmaster. Due the power requirements (which run through the chair) there is a specific version of the T150 wheel, i.e. the Asia edition.
Most cockpit games are currently forwards-facing (because the user is usually sitting on a fixed chair), so we created a special Roto VR Cockpit Mode to support these types of games.
Tablettes
Bring your HOTAS (joysticks) into 360 degree VR with the RotoVR Tablettes.
The left and right Tablette slide into the chair arms and support your HOTAS with pre-set screw holes for many of the joysticks already in the market.
Each Tablette also comes with a padded slot (hole) to stow motion controllers. A surface cover will also be supplied to support a mouse.
Desktop
Add the Roto VR Desktop to bring keyboards (and laptops) into 360-degree VR.
Keyboards remain the most efficient communication device to-and-through computers and VR is no different.
The non-slip Roto VR Desktop supports most keyboards (and laptops) as well as slots (holes) to stow motion controllers.
The Roto VR desktop rotates via a pull-knob at the rear to allow easy access in-and-out of the chair.
---
Related Products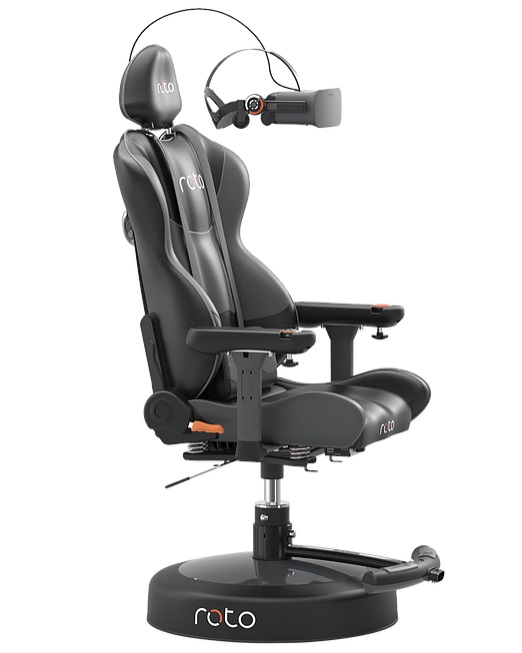 Roto VR Ltd.
VR
February 1, 2020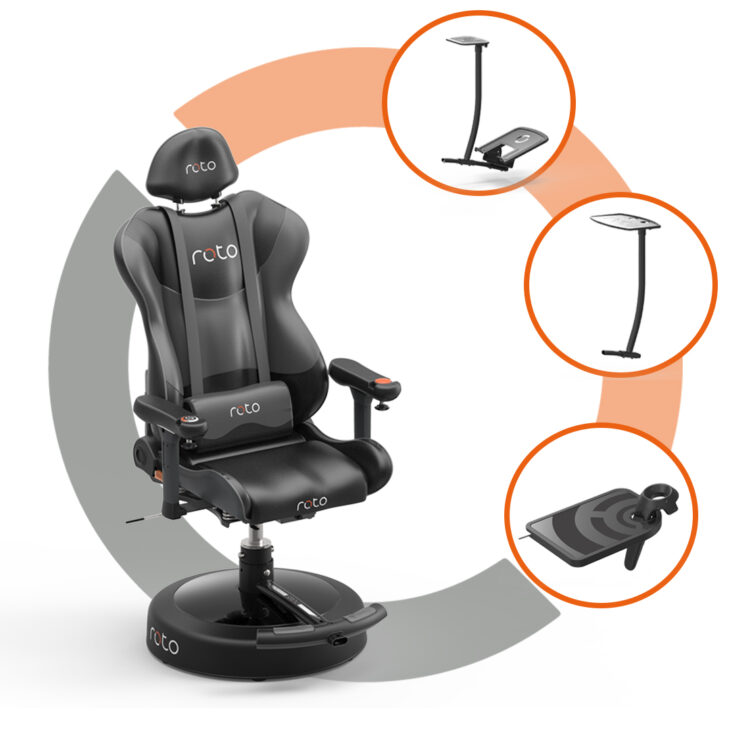 Roto VR Ltd.
Accessories
February 1, 2020
---