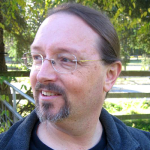 Marc Laidlaw is a writer of science fiction and horror and a former computer game designer at Valve Corporation. He is known for creating such famous games as the Half-Life series. He is also a prolific blogger, journalist, and cyberpunk author.
Born in 1960, Mr. Laidlaw grew up in Laguna Beach, California. He studied at the University of Oregon, where he started writing science fiction, heavily inspired by writers such as Philip K. Dick and H.P. Lovecraft. Shortly after graduating he became motivated to start his career in video game design after playing the PC adventure game Myst. In 1997 he joined Valve Corporation, and started working on Half-Life, which was released in November the following year. His major contribution was towards the plot decisions and character development of Gordon Freeman, the protagonist of the Half-Life games. Mr. Laidlaw continued working for Valve on a series of expansion packs for the original game: Opposing Force, Blue Shift, and Decay. Making use of the new Source game engine, he then worked on Half-Life 2 and its sequels, Episode One and Episode Two.
In January 2016 Mr. Laidlaw announced his retirement from Valve Corporation, choosing instead to pursue his writing projects. He is best known for his "freestyle cyberpunk" writing style, with books including Dad's Nuke, Neon Lotus, The 37th Mandala, and the Gorlen series. However, through an email conversation with a member of the Half-Life Reddit community, Mr. Laidlaw has revealed that he is not writing out the possibility of returning to game design sometime in the future.
---
Profiles and Links:
---
Related News
Read all related news...