Country: Poland
Company: CD Projekt Group
Position: Game Director
Education: University of Florida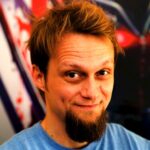 Gabriel Amatangelo is the Game Director for Cyberpunk 2077 at CD Projekt Group. He was appointed for this position in May 2021. Mr. Amatangelo has been with CD Projekt since January 2020. Prior to that, he has been the Game Director at QC Games for over three years. Prior to that, Gabriel Amatangelo has been with BioWare and before that with Electonic Arts for over fifteen years, at various positions, including Creative Director.
---
Profiles and Links:
---
Related News
Read all related news...