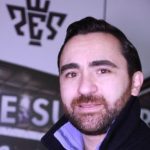 Erik Bladinieres is a video game industry veteran in marketing and management and held the position of Vice President for Global Product and Business Development at Konami.
Born in Mexico, Bladinieres graduated from Universidad del Valle de México in 2002, with a degree in International Marketing. Shortly thereafter, he returned to school at James Cook University, earning a Masters Degree in Applied Science.
After getting his undergraduate degree, Bladinieres dove right into the game industry, taking a position as Brand Manager at Tycoon Enterprises. Over the next decade, he would work his way up through management positions at The Walt Disney Company, Gamexpress Latin America, and eventually Konami.
Shortly after joining Konami, Bladinieres took on the task of introducing the brand to Latin America, opening a highly successful Konami office in Mexico. He has been especially involved in the production of the Pro Evolution Soccer (PES) game series, which have been the company's most successful export to Latin America, as well as Castlevania: Lords of Shadow. The success of the PES games earned him an additional title of Global Director of Football and Alliances in 2014.
Bladinieres is currently based in Windsor, England and continues to represent the Pro Evolution Soccer games globally in addition to his duties overseeing product and business development for Konami.
---
Profiles and Links:
---
Related News
Read all related news...