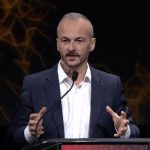 David Anfossi is a French video game producer and the Head of Studio at Eidos Montreal, a subsidiary of Eidos Interactive. Anfossi started his career as Project Head at Bourbon Automotive Plastics, a company that designs and assembles automotive parts. During his six-year tenure there, he signed three European and one world patent.
In 2002, Anfossi left Bourbon and moved to Montreal to work briefly as a Project Manager at MegaBloks, before being hired by Ubisoft Montreal. Over the years, Anfossi worked his way through the ranks, first acting as Project Coordinator, then Closer, Associate Producer, and Producer. While working at Ubisoft he produced several games, including AND 1 Streetball and Rocky Balboa. Four years later, in 2007, Anfossi left Ubisoft to launch Eidos Montreal alongside Stephane D'Astous.
During Eidos Montreal's early years, Anfossi helped the Square Enix-owned company find its feet by producing its first and most critically-acclaimed games, Deus Ex: Human Revolution and Deus Ex: The Fall. In July 2013, Stephane D'Astous stepped down as Head of Eidos Montreal, and Anfossi was promoted to Head of Studio in his place.
As Head of Studio, Anfossi has overseen the production of the games Thief and Rise of the Tomb Raider, and continues to be responsible for the expanding Deus Ex franchise, which has been given the umbrella name Deus Ex Universe under his leadership.
---
Profiles and Links:
---
Related News
Read all related news...