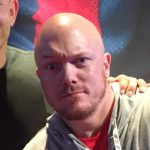 Brian Hayes is a Creative Director at Electronic Arts, and is behind such EA Sports titles as Flight Night Round 4, UFC, and other.
Brian Hayes is a Creative Director at Electronic Arts in Vancouver, Canada. He has been in his current position for over four years, prior to that he was a video Game Producer with Electronic Arts for nine months and an Associate Producer for a year before that. He has extensive experience in video game design and development and has been behind such releases as Def Jam Vendetta, Fight Night Round 4, Fight Night Champion, and the Electronic Art's UFC series. He holds a Bachelor of Science from the University of Western Ontario (London, Canada) and a certificate in classical animation from the Vancouver Film School (Vancouver, Canada).
Brian was a prolific drawer and comic book aficionado throughout his youth in small-town Belleville, Canada. While working on his post-graduation portfolio, Brian became a Quality Assurance Tester with Electronic Arts and has been with them ever since – moving into the production and design role as he was appointed to progressively more interesting and challenging jobs. Brian boxes and plays basketball in his pare time.
---
Profiles and Links:
---
Related News
Read all related news...