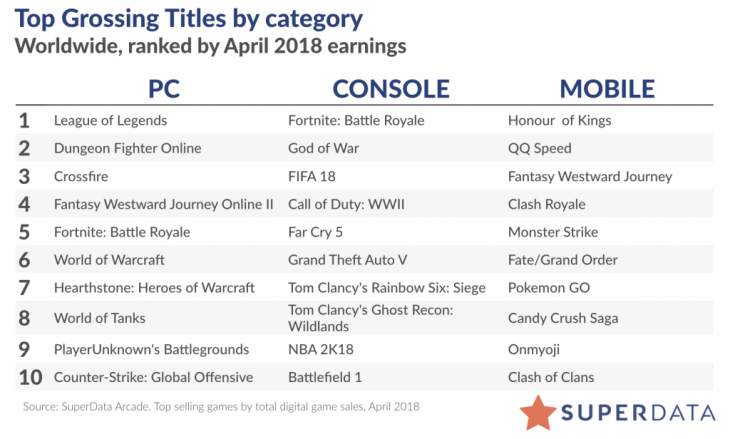 According to SuperData's report for April spending in the digital games market has grown by 23 percent year-on-year.
In April 2018 consumers spent $9.09 billion on digital games over PC, mobile and console platforms. This figure is up from April 2017 which was $7.42 billion. While growth in the premium PC, social, Free-to Play and Pay-to-play PC segments was flat, console and mobile spending more than made up for the lack of growth with the increased spending in their segments.
Fortnite broke yet another record for spending during April 2018, generating $296 million over console, PC, and mobile platforms, which is an increase from $223 million in March. The game broke the record for most additional content revenue in a single month on home consoles.
Year-on-year Grand Theft Auto 5 is finally starting to show a decline, with revenue decreasing 9 percent. This decrease ends the game's impressive streak of twelve consecutive months of growth compared to the same time the previous year. Due in large part to the rise of Fortnite, revenue for Grand Theft Auto Online has continued to see a decline every month in 2018. With Red Dead Redemption 2 coming up it's entirely likely that the new title will become Rockstar's focus for additional content support in an online game.
God of War was a roaring success for April, becoming Sony's largest PlayStation exclusive release to date. It's estimated that the game has sold 2.1 million digital units at launch, more than double that of Uncharted 4.
Console spending also increased during April which is thought to be attributed to both Fortnite and God of War. The God of War PlayStation 4 Pro console bundle has completely sold out in both online and physical retail stores.
In the mobile segment Honor of Kings was the top grossing title in the world, generating $185 million in April. This is an increase from March last year, when the game generated $171 million, and April of 2017 as well when it generated $149 million.