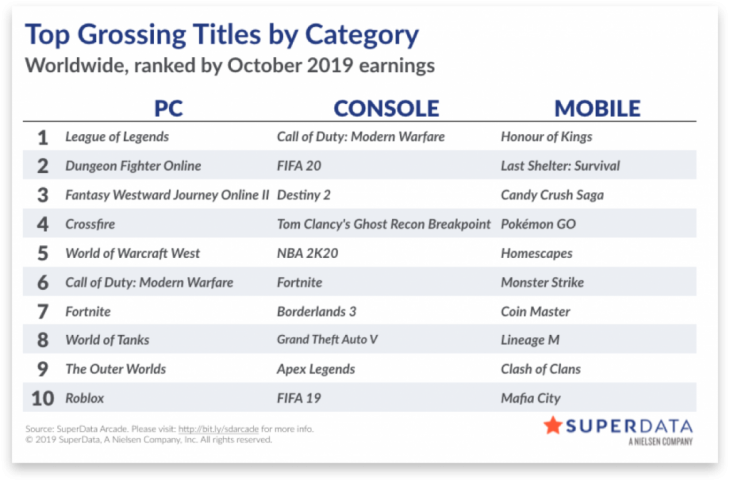 SuperData have released their report for the global digital games market in October 2019, showing that consumers spend $8.84 billion digitally across all games during the month.
The combined spending for console, mobile, and PC was down by 3 percent year-on-year, which a drop off in the console segment was largely responsible for. This drop off was caused by a hard comparison to last year, when Red Dead Redemption 2 launched and sold extremely well. On the other hand, the mobile segment grew by 8 percent year-on-year, and continues to be a growth leader for digital games.
Call of Duty: Modern Warfare had the best digital launch of 2019 to date. The game is estimated to have sold 4.75 million digital units over console and PC, though this figure is down by 11 percent compared to the launch of Call of Duty: Black Ops 4.
However, Modern Warfare launched later in the month compared to Black Ops 4, which could have contributed to the lower sales figure we see here. Modern Warfare also launched without a season pass, so the price per digital unit is lower than that of Black Ops 4.
Apex Legends saw the best month since the game's launch quarter in October. In-game spending generated $45 million in the month across PC and console, which is a big increase from $16 million in September. While EA is leaning into the game as a big new franchise, Apex Legends has still only generated about 50 percent of what FIFA Ultimate Team did during the same period after launch.
The slow down of virtual currency sales for NBA 2K has continued in October, showing a decline year-on-year for the first time since June 2018. After a great start with NBA 2K19, the games have now seen this slow down for the last four months consecutively.
Call of Duty Mobile has seen a fantastic start. The game generated $57 million in total for October, and saw 116 million monthly active users. The game places as the twelfth top grossing mobile game worldwide for October, with iOS making up for 82 percent of the game's spending.