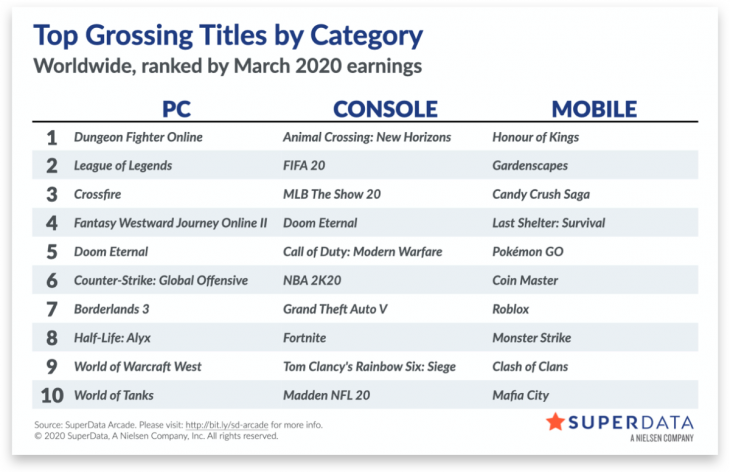 SuperData's worldwide digital games market report for March 2020 is now out. Spending on digital games hit the highest it has ever been for a single month, $10 billion. Total digital revenue for the month is up by 11 percent year-on-year.
It's thought that this is a combination of consumers seeking entertainment during the coronavirus (COVID-19) pandemic, and lockdowns that come with it, as well as some people keeping in touch with friends via online multiplayer in specific games.
As lockdowns came into effect, premium console and PC spending skyrocketed. Premium console revenue saw a rise between February and March of 64 percent, jumping from $883 million to $1.5 billion. Premium PC spending rose over the month by a similar amount, 56 percent, increasing from $363 million to $576 million. The increase in spending was more prevalent in North America and Europe, which coincides with when lockdowns came into effect.
Despite the lockdown, spending on mobile games continued. Spending in the segment is up by 15 percent year-on-year at $5.7 billion, and earnings for a few major mobile games grew over the month. Pokemon Go revenue was up month-on-month by 18 percent at $111 million, which was aided by an update from developer Niantic to make it more enjoyable to play at home.
Animal Crossing: New Horizons has been incredibly popular, selling more digital units in a single month than any other console game ever at 5 million. The record was previously held by Call of Duty: Black Ops 4. Sales of the latest Animal Crossing game roughly match those of Super Smash Bros. Ultimate, and Pokemon Sword and Shield combined.
With the launch of Warzone, Call of Duty: Modern Warfare players spiked by 159 percent month-on-month to 62.7 million people. Warzone is a free-to-play Call of Duty multiplayer game that takes on the likes of Apex Legends and Fortnite, with a few new twists to the battle royale formula.
DOOM Eternal launched in March to the tune of 3 million digital units, over three times what the previous game, DOOM 2016, sold at 957,000 digital units. While the game is selling well now, revenue is likely to dry up faster due to a lack of monetisation in the multiplayer element, though DLC is said to be on the way for the main campaign that will have a cost associated with it.
Half-Life: Alyx saw moderate sales for a triple-A game, but as far as VR games go it was a colossal success. The game is the third mainline installment in the franchise, and the first that's a VR exclusive. Direct purchases of Half-Life: Alyx brought in $40.7 million in revenue, but hundreds of thousands of copies were packaged in with VR devices that sold around the same time.