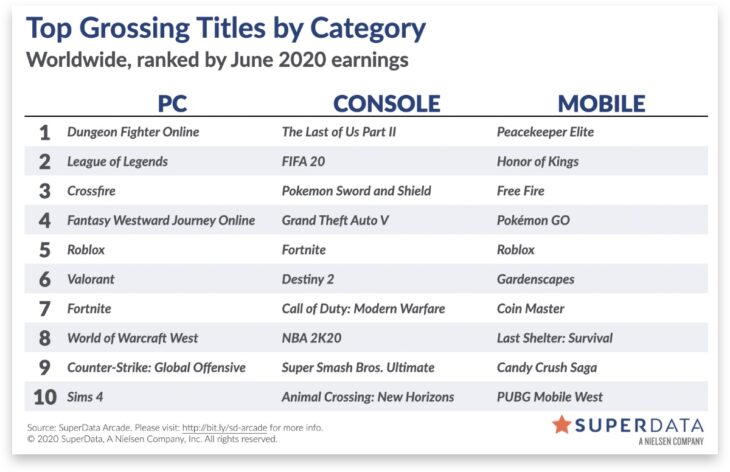 SuperData has released their latest report on worldwide spending on digital games for June 2020. The report shows that the month saw $10.46 billion in revenue generated, which is the second-highest month ever after April 2020, which saw $10.54 billion generated.
Earnings were up by 3 percent month-on-month, and 9 percent year-on-year. PC and console revenue was down from when they peaked in March 2020. Mobile revenue growth offset this somewhat. The segment saw an all-time high in June 2020, which is thought to be partly attributed to summer, which always sees a boost, but also a lack of other entertainment due to the coronavirus (COVID-19) pandemic.
The Last of Us Part 2 sold a total of 2.8 million digital units over the month. This is the highest digital sales launch of any PlayStation exclusive, putting it ahead of Marvel's Spider-Man with 2.2 million units. The game is thought to have benefited greatly from a huge number of digital pre-orders, which may have been bloated due to the pandemic.
Valorant saw the biggest ever launch for a free-to-play PC game. Revenue and player numbers are ahead of Apex Legends, which earned more overall due to console sales. Despite the closest competitor, CS:GO, having a larger audience, Valorant made more money in June 2020 too. In fact, Valorant's release saw players moving away from CS:GO for the second consecutive month.
A new season and expansion plan announcement drove up revenue and player numbers for Destiny 2. Between pre-orders for the upcoming expansion, and new seasonal content, spending was up by 221 percent. This was the highest-earning month since October 2019. Player numbers were up by 45 percent, a new record for the game, with many lapsed players now finally returning to play the game.
Pokemon Sword and Shield saw their highest-earning month thanks to the release of the first expansion for the games, Isle of Armor. Earnings were way above the best performing month for Super Smash Bros. Ultimate. For the first attempt at paid expansions in the Pokemon series, this DLC has performed terrifically well.
Console revenue for Grand Theft Auto Online dropped by 33 percent in June 2020, showing that a lack of major updates is causing some players to move on. The last major update was released in December 2019, and while lockdowns and a free period on the Epic Game Store boosted spending temporarily, the game is currently on a downward slope.