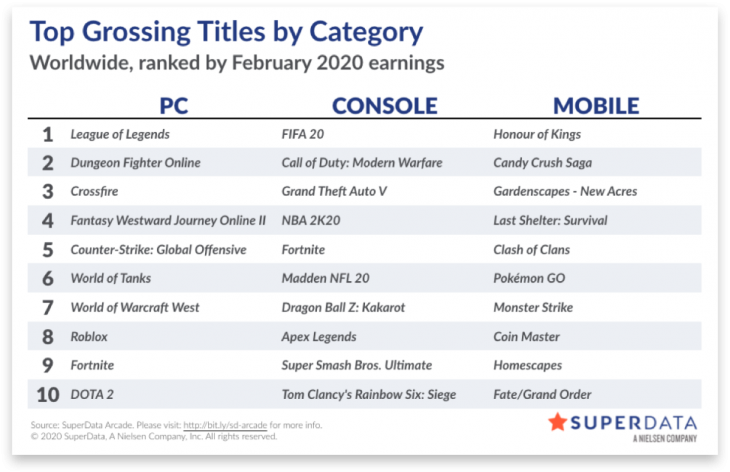 SuperData have released their report on worldwide digital games spending in February 2020.
The report shows that spending for the month was up by 4 percent year-on-year to $9.2 billion. Mobile revenue was up by 16 percent, a particular highlight as always, while console and PC revenue dropped year-on-year by 22 percent and 6 percent respectively.
February 2019 was a month packed with big releases, which February 2020 was not. Without those larger game launches to rely on, free-to-play revenue dropped by 49 percent year-on-year, and premium console revenue dropped by 17 percent year-on-year.
While measures are now in place to combat the coronavirus, (COVID-19), many didn't come into effect until March. As a result, a number of games have seen a boost this month that isn't reflected in February's data.
In Japan, Dragon Ball Z Dakkan Battle and Monster Strike both saw a rise in revenue, as it's thought Japanese consumers gravitate more towards games. Dragon Ball Z Dakkan Battle saw a jump in revenue of more than triple to $78 million in February from $24.8 million in January.
Counter-Strike: Global Offensive (CS:GO) players spiked to the highest they've ever been in February, 24 million. The game has seen a continued upward trend of interest since going free-to-play in December 2018. However, the impending launch of Riot Games' Valorant, and the success of Call of Duty: Warzone, could both affect any further growth in the CS:GO player base.
The PlayStation 4 version of The Sims 4 was offered to users for free during February, pushing player numbers on the platform to 2.5 million, more than the PC version at 2.2 million. The Sims 4 generates most of its revenue from in-game content, and this offer was EA's way of securing as many PlayStation 4 users as possible.
Coin Master had its best earnings ever during February, $87.1 million. The social casino game rose to be eighth in the mobile chart, and is now the best-earning social casino game on the market. This is impressive considering that the game isn't endorsed by a celebrity, like slotomania or DoubleDown casino, both of which have seen Jennifer Lopez appear in advertisements.