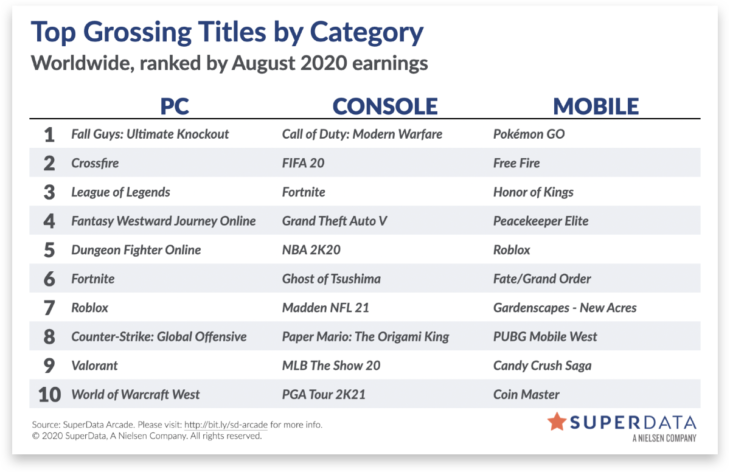 SuperData has just released its report on the worldwide digital games market for the month of August 2020. It shows that digital games revenue was up by 16 percent year-on-year at $10.8 billion. The month saw digital console earnings grow the most, by 88 percent year-on-year. However, revenue was also up on mobile by 3 percent, and 15 percent on PC.
Through the first eight months of 2020, digital games have earned a whopping $82.8 billion. This shows a growth of 13 percent year-on-year. This growth was sparked as people turned to indoor entertainment in March due to the coronavirus (COVID-19) pandemic, but has continued that momentum for the rest of the year.
Fall Guys: Ultimate Knockout saw the highest-earning launch for any PC game since Overwatch in 2016, reaching $185 million. While the game was free on PlayStation Plus, 8.2 million people still purchased it on PC. The game's appeal came from the fact that so many people had access to it immediately, and that Twitch streamers picked it up for the frantic fun it brings.
Horizon: Zero Dawn shifted 716,000 units during its launch month. This is a launch comparable to that of The Witcher 3: Wild Hunt, and Assassin's Creed Odyssey. The game was previously a a PlayStation 4 exclusive, and managed to sell more units than the last one to make the jump to PC, Death Stranding at 477,000.
In total, premium sports games earned $321 million for the month. EA's Madden NFL 21 sold 570,000 digital units. Since NBA 2K21 launched in September, NBA 2K20 saw the most action in August, with earnings up by 165 percent on NBA 2K19's August 2019 performance. It's thought that the NBA season continuing into the summer due to the pandemic had something to do with these sales. Finally, PGA Tour 2K21, which is a new franchise from 2K, sold 580,000 units in its launch month.
Revenue from Fortnite managed to grow by 76 percent month-on-month on PC and console. This more than offset the crashing mobile revenues. Player spending saw a boost thanks to the launch of a new season in partnership with Marvel. However, mobile revenue has dropped by 62 percent following Apple and Google delisting the game from their app stores. This is part of Epic's campaign to bring the revenue cut against developers on these stores down, but has so far only led to them losing out on Fortnite revenue from devices that the offending companies control.
Pokemon Go broke all-time earning records in August. It generated 25 percent more than the previous peak, which was August 2016. The game definitely benefited from the improved weather seen around the world, something that is only now starting to turn.
PUBG Mobile was the 8th highest-earning mobile game of the month, prior to its ban in India. The game had frequently been the country's highest-grossing game, but now there has been a harder crackdown on apps from China. Unfortunately for PUBG Corp, their mobile game is operated by Chinese tech giant Tencent. Interestingly, player numbers didn't change massively during the month, showing that those who would usually play Fortnite on mobile devices did not immediately switch to PUBG Mobile.