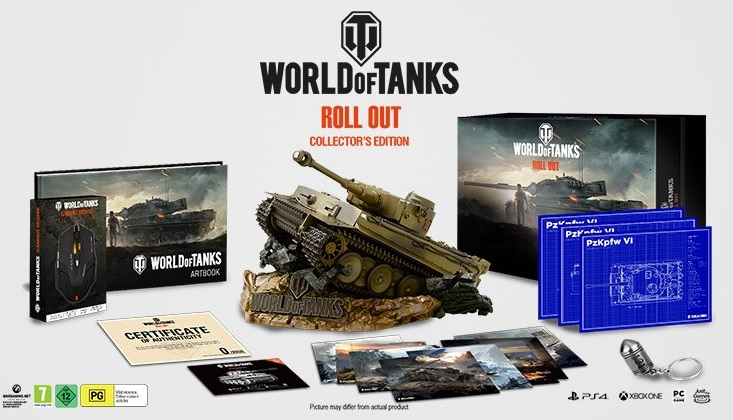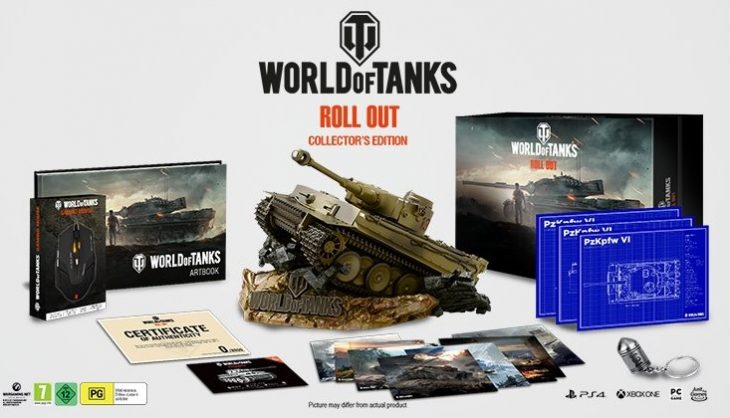 World of Tanks released originally in 2010 as a digital only MMO that put players behind the wheel of various tanks from throughout history, pitting them against each other in a number of different combat situations. Now, eight years later, the game will finally be getting a physical retail release.
Developer Wargaming have announced a physical collector's edition as part of a marketing initiative to boost merchandise sales. The collector's edition of world of Tanks is available for pre-order at £159.99, in which consumers receive a copy of World of Tanks, physical blueprints, a replica Tiger 131 model, a hardcover artbook, a gaming mouse for Windows and iOS, a keychain, lithographs, DLC for PC, PlayStation 4, or Xbox One including; Tiger 131, 3 garage slots, crew 100%, 10 large repair kits, 10 large first aid kits, 10 automatic fire extinguishers, 10 chocolate, 30 premium days, and, 1,000,000 credits. Finally, this edition also includes a certificate for the number of the edition, with only 5,130 ever being made, and premium packaging.
The new merchandise, some of which is included in the collector's edition such as the gaming mouse, is available on Wargaming's online store. The items have been created by Konix, and include in-game bonuses for any players, new or existing. All of the new merchandise, as well as the physical edition of World of Tanks, releases on October 19, 2018.
A new tank is also being released for the game, as part of the promotion of the physical edition and new merchandise. The new tank has been built in collaboration with Cobi, and is called the Primo Victoria. The tank is tied with Sabaton, a power metal band from Sweden, and there will be five figurines, one for each band member, available in the game along with the tank.
With a number of games currently live with millions of players between them, Wargaming is performing well. The console version of World of Tanks alone was reported to have 14 million players earlier this year. The developer recently announced that they'll be opening a UK based studio to work on an MMO in the Unreal engine.