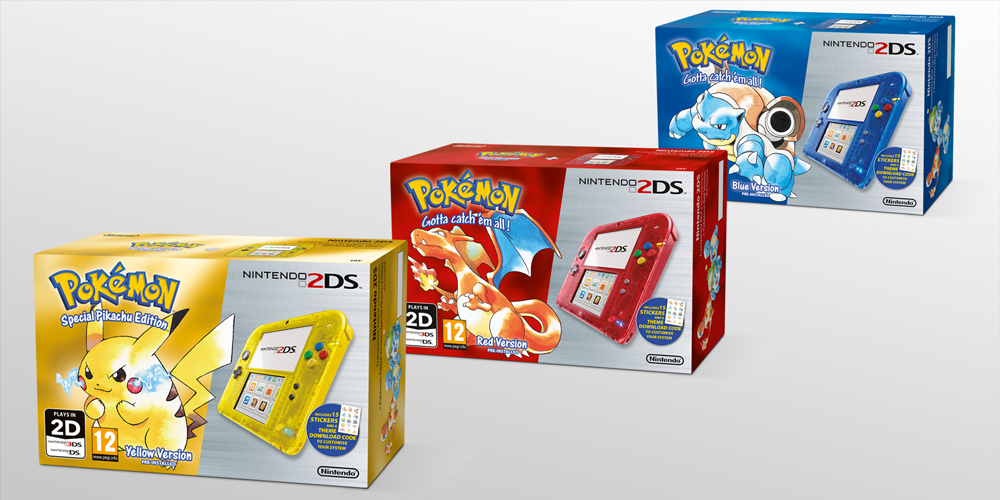 In time for the twentieth anniversary of the Pokémon games, Nintendo has introduced a set of three special edition 2DS consoles.
Nintendo of Europe's Twitter page made the announcement that on 27th February three collectible editions of the 2DS will hit the shelves.
The handheld consoles will come with Red, Blue and Yellow coloured cases, after the three versions of the original Pokémon titles, which were first released on Game Boy Colour in Europe back in 1999.
Each of the unique 2DS consoles will come pre-loaded with a copy of the appropriate corresponding Pokémon game. These will be Virtual Console versions as opposed to hard copies of the game.
Additionally, owners of the Special Edition handhelds will also get their hands on a sticker sheet and a downloadable theme for their DS.
Pokémon was first introduced to games in Japan on 27th February 1996. Since then, Pokémon has become a global phenomenon and pop culture icon, spawning a trading card game, TV series, films, and near-countless commercial products.
There are currently six generations of Pokémon games, with each generation containing multiple editions such as Red, Blue and Yellow, or Gold, Silver and Crystal. The latest Pokémon games, Omega Ruby and Alpha Sapphire—remakes of 2002's Ruby and Sapphire—were released on 3DS in 2014.
The twentieth anniversary Special Edition Pokémon 2DS consoles will be available for purchase on 27th February 2014.
Related Topics:
Consoles
,
Nintendo 2DS
,
Pokémon
---