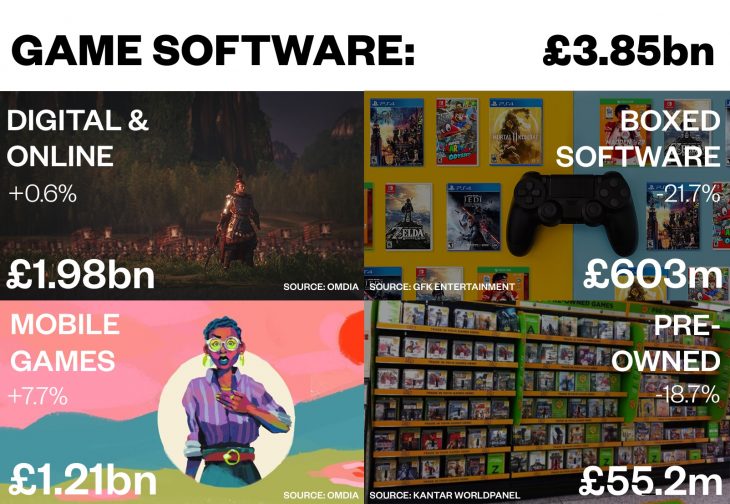 UK consumers spent £5.35 billion on games and video game products in 2019. This data comes from the latest market valuation report from UKIE, a UK trade body. UKIE points out that this total spending is down by 4.8 percent from 2018, when UK consumers spent a record £5.7 billion.
UKIE described the spending pattern as one that shows that consumers are waiting for something big. This of course relates to the PlayStation 5 and Xbox Series X, both of which are due for release in holiday 2020.
The hardware section of the report in particular shows the anticipation for these next-gen consoles. Revenue for console sales dropped to £488 million for the year, a fall of 30.5 percent year-on-year.
The accessories segment of the report, for items such as controllers, saw a drop of 6.8 percent year-on-year down to £331 million. Far less significant than the hardware segment. Interestingly, the VR hardware segment saw a revenue drop year-on-year of 12 percent to £65.8 million. However, it was PC hardware that saw the slowest decline, dropping to £469 million, a fall of 6.1 percent year-on-year.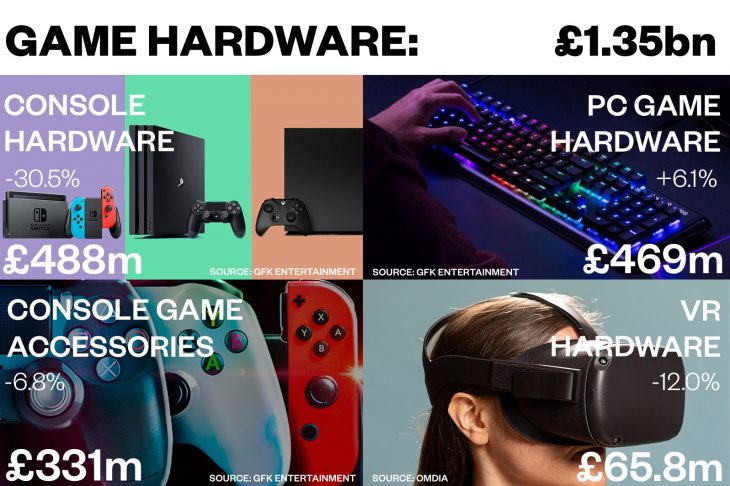 The total drop in hardware spending across the board was 14 percent year-on-year, falling to £1.35 billion. Software, on the other hand, only saw a drop of 2.1 percent year-on-year to £3.85 million.
While digital and online revenues were fairly flat, there was a drop of 0.6 percent year-on-year. These were still the largest segments of the market though, generating £1.98 billion over the year. The segment now makes up 51 percent of overall market spending in the UK, with mobile bringing in the second most at £1.21 billion. The mobile segment actually grew by 7.7 percent over the year.
Boxed games and pre-owned game sales saw drops of 21.7 percent and 18.7 percent respectively. New game spending topped £603 million for the year, with pre-owned games generating £55.2 million. The bigger issue with boxed game sales is a lack of big name released for the year compared to previous years.
According to the report, Amazon has now become the biggest seller of boxed games in the UK, accounting for around 25 percent of all game sales in the country.
The final segment, games culture spending, grew by 28.5 percent year-on-year to £146 million. This segment includes toys, collectibles, movies, and events. Toys and merchandise were the largest segment, growing by 48 percent year-on-year up to £94.2 million.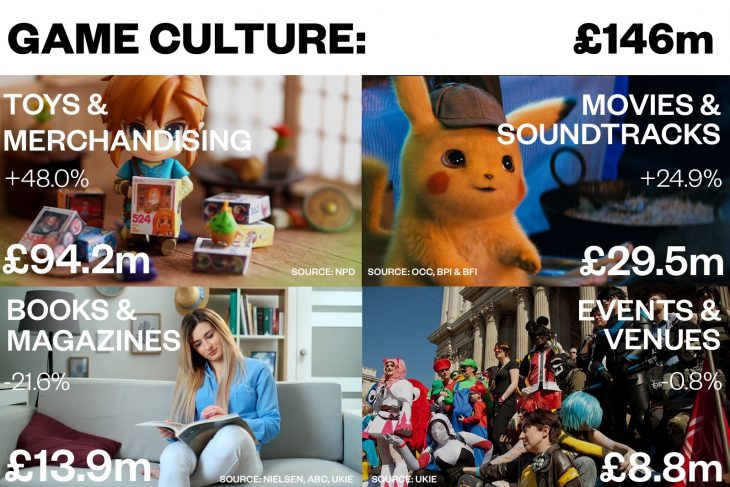 Movie soundtrack revenues were boosted by the release of films such as Detective Pikachu. The segment grew to £29.5 million, a rise of 24.9 percent year-on-year.
Events and venues spending dropped slightly by 0.8 percent to £8.8 million, but remained fairly flat. Spending on print books was hit though, dropping to £13.9 million, a drop of 24.9 percent, as more readers move to digital versions.
UKIE ended their report explaining that 2020 will be a difficult year to predict. With two new consoles on the way, both of which are launching at the end of the year, the industry could see further decline before it grows exponentially in 2021.