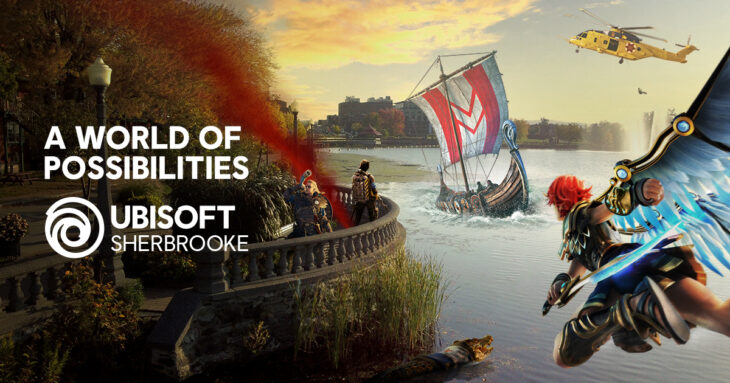 Ubisoft has announced the formation of a new studio, Ubisoft Sherbrooke, which will be the fourth development studio the publisher has in the province of Quebec.
The team working at Ubisoft Sherbrooke will be comprised of multi-talented individuals who can work across a range of projects in-house. From the sounds of things, the studio will be a complimentary one, designed to work alongside other major studios when they need assistance.
Nathalie Jasmin has been appointed as the Managing Director for Ubisoft Sherbrooke. She joined Ubisoft in 2012 and worked as a Senior Producer. Since then, she became the director of Harbour, which is Ubisoft's online service platform, in 2019.
Jasmin explained that recent years have seen Quebec become a veritable hotbed of talent in the industry. Ubisoft Sherbrooke seeks to offer new opportunities to staff who may be looking for them, as well as Ubisoft employees who may want a change but desire to remain with the company. Due to the openness of the talents that the studio requires, there's no limit to what Ubisoft Sherbrooke could do.
Ubisoft will be investing $17 million to support entrepreneurship, youth training, and innovation. All of which will help foster new talent that could go on to work with Ubisoft in the future. These investments, no matter their size, always help to go on to spur new people to get into the games industry.
Ubisoft added that it will be launching an accelerator program in 2022 that will help fast track people into the industry through funding and mentorship. This will also help independent businesses and get indie developers into Ubisoft where they can thrive.
It sounds like Ubisoft wants to invest heavily in people over games right now. While it has the recurrent income from so many games-as-a-service, it would be mad to waste the potential that could be found in those who want to work with the company that makes the games they love. However, there are still issues at Ubisoft regarding the treatment of staff, and until those are settled, it will be difficult for anyone to enter the company with a feeling of ease.