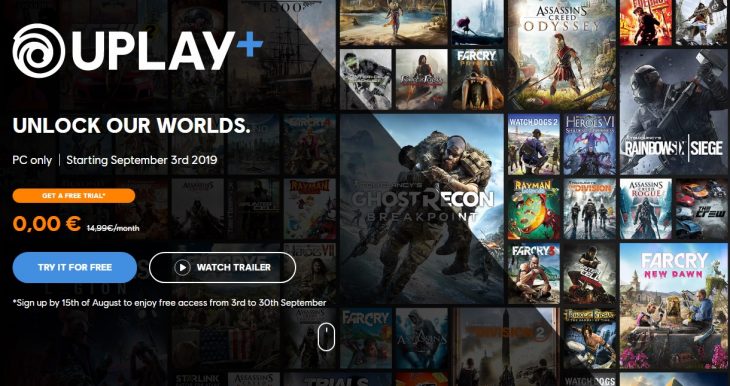 During their E3 2019 press conference Ubisoft announced their own game subscription service, joining the likes of EA, Playstation, and Xbox.
Ubisoft's new service, Uplay Plus, gives subscribers access to over 100 PC titles from Ubisoft. The fee for the service is $14.99 per month and will be made available from September 3, 2019, in most of Europe and throughout the US.
Not only will Uplay Plus be accessible via PC, but it can also be accessed by Google Stadia users, though the latter functionality will be introduced in 2020. Brenda Panagrossi, Vice President of Platform and Product Management for Ubisoft, told press that the company would like to see the service expanded to other platforms in the future, but at the moment there is nothing to announce on that front.
Panagrossi confirmed that the library of games for Uplay Plus is growing, and won't see games rotate in and out, as is seen with the Xbox Game Pass. Upcoming titles such as Watch Dogs Legion and Ghost Recon Breakpoint will launch for the service as they launch for every other platform. Each game in the Uplay Plus library will include all of the additional premium content from launch and as it's released for each game.
Ubisoft feel as though they have a strong opportunity in the subscription servicer space because of the number of studios they operate, and the strength of their games catalogue. Their legacy titles and games that are still being supported today alone are enough to keep players occupied for hundreds, if not thousands, of hours.
A family subscription service is being looked into for Uplay Plus in the future. This would allow multiple users to access the same subscription service, though again there is nothing to announce on this front currently.
Ubisoft's subscription service is interesting because the publisher releases so many well-loved titles in established franchises. Rainbow Six: Siege alone has an enormous player base made up of millions of players, each of which purchase a content pass every year. With Uplay Plus season passes become a thing of the past, and fans can access the very latest content for their favourite games as soon as it's made available. Combined with the accessibility of Google Stadia next year, this service could rise to the top of the market.