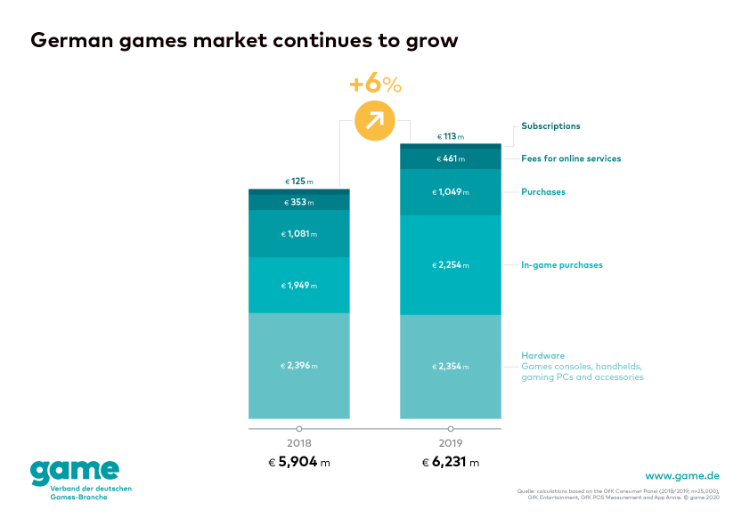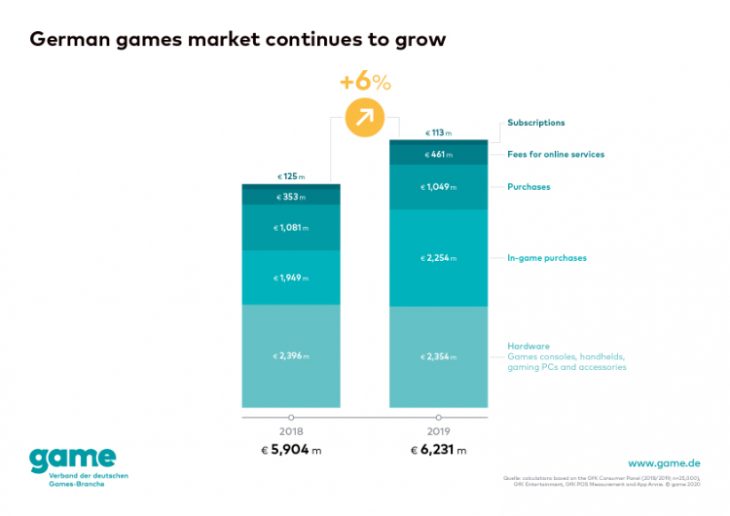 In 2019 German consumers spent €6.2 billion on gaming products, pushing the market and helping it experience some serious growth. All of this data comes courtesy of GfK and App Annie.
The German games industry trade body Game recently reported figures that tracked German consumer spending on games in 2019. Not only does it show the huge amount spent on games over the past year in Germany alone, it also shows market growth of 6 percent year-on-year.
Hardware figures for the past year experienced a small drop, 2 percent year-on-year, but remain fairly consistent compared with previous years at €2.4 billion. It was in software that revenues saw the most growth, with a rise of 11 percent year-on-year to €3.9 billion.
In-game purchases were the main driver of software sales for the year. This includes spending on season passes, microtransactions, and major game expansions such as Destiny 2 Forsaken, or Monster Hunter World: Iceborne.
Breaking the figures down, in-game spending saw a rise of 16 percent year-on-year to €2.3 billion from €1.9 billion the previous year.
Online game services such as Xbox Live Gold and PlayStation Plus also saw growth alongside game streaming services such as PlayStation Now and Stadia. Overall the segment grew to €461 million for the year, an increase of 31 percent year-on-year.
Software did see some declines over the course of the year though. Game purchases dropped to €1.05 billion, a fall of 3 percent year-on-year, and subscriptions to individual games dropped by 10 percent year-on-year to €113 million.
The managing director of Game, Felix Falk, explained that years towards the end of a console generation are comparatively weaker than 2019. This could have something to do with the strong performance of the Nintendo Switch, or an increase in online services. In the UK, the games market saw a 4.8 percent drop year-on-year in 2019, with spending dropping to £5.35 billion.
With the upcoming launch of the Xbox Series X and PlayStation 5, the games market may see some recovery over the course of 2020, but considering the launches are towards the end of the current financial period, any improvement in games spending may not be trackable until 2021/2.