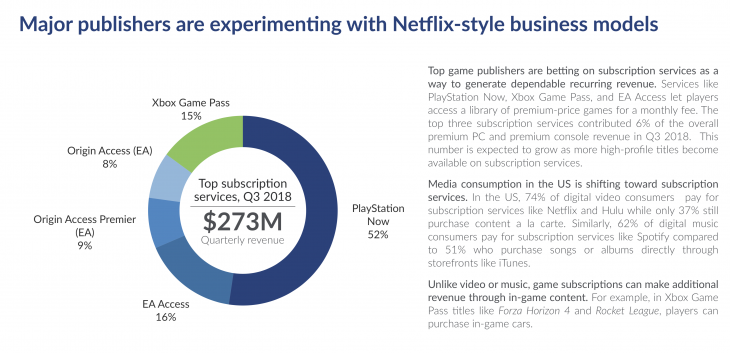 Superdata have released a report into the way publishers are using subscription services more and more to generate recurring revenue.
According to their data Superdata believe that publishers are seeking to use game subscription services to develop dependable revenue on a consistent basis. In 2018 the top three game subscription services brought in $273 million in revenue.
Game publishers are pushing game subscription services more and more in light of the shift in consumer spending. Services such as Netflix and Spotify, which are subscription based, have become the norm in the US. Now subscriptions such as the Xbox Games Pass are offering subscribers triple A titles on the day they release.
With subscription services publishers and platform holders can get the latest games into consumer hands for a limited time after release. These services also offer smaller developers the chance to have their games given to subscribers at a much lower entry cost, making it easier for players to invest their time openly.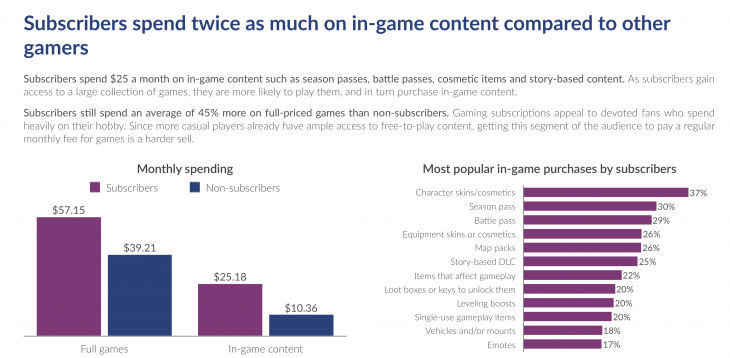 Out of all the game subscription services Playstation Now earned the most in 2018. The service generated $143 million over the year, though other gamer services are catching up. Xbox Games Pass and EA Access are chasing Sony by trying to offer better titles on their platforms. The Xbox Games Pass now brings Xbox exclusives to subscribers on launch day as part of the service for a limited time after release.
According to the data the lineup of titles in the subscription service plays a big part in whether they invest or not. Subscribers generally spend more on in-game content and season passes, and since they gain access to a large collection of games they're happier to spend on subscription services. The data also shows that those who spend on subscription services invest heavily in their hobby and spend an average of 45 percent more on full price games.
Finally, Superdata have shown that gamers prefer to download games over streaming them. The reason for this is that downloaded games perform better and don't run into issues if the internet is struggling or goes down. Companies such as Google and Microsoft are testing their own game streaming services, which could prove to be more stable than those on offer currently.