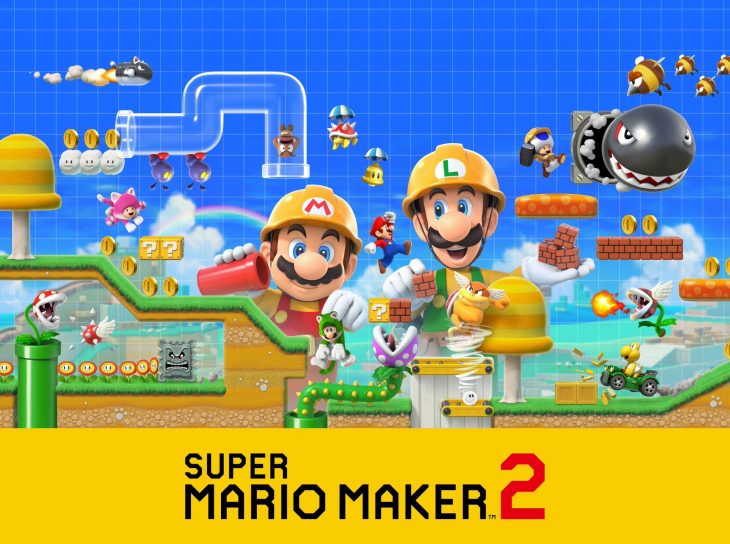 During yesterday's Nintendo Direct more details about Super Mario Maker 2 were revealed, covering brand new features and modes added for the sequel.
The biggest new feature for Super Mario Maker 2 is online multiplayer. The original game didn't include this feature, but now players will be able to share their creations with friends who can then go on and compete in races, battles, and more within those creations.
In the Multiplayer Versus mode up to four players can compete to race through a randomly selected level, with players taking on the roles of Mario, Luigi, Toad, or Toadette. A new system called Versus Rating will be increased for the player that wins the race through the level.
Another online mode is Multiplayer Co-op, for those who don't enjoy the competitive mode. In this mode the idea is for players to work together to reach the end, and if either player finishes then the whole team wins.
In addition to online multiplayer Super Mario Maker 2 features local multiplayer. As long as the host player has a constant internet connection, and each player has their own Nintendo Switch and copy of Super Mario Maker 2, then all of them can play together through the selection of multiplayer modes.
Also revealed for Super Mario Maker 2 is a more defined single player story mode. The mode is designed to help players get to grips with the game, but also builds upon the loose story mode that was available in the original game. In the story Mario must rebuild Peach's castle by earning coins. He earns these by completing jobs, each of which is a course. Nintendo have confirmed that more than 100 courses will be available for players to complete as part of this story.
New features that built upon the systems already seen in Super Mario Maker include new assets from Super Mario 3D World and Super Mario Bros 3. Some assets have different forms, such as the Angry Sun for example, which will change to a moon when tapped in the editor to give levels a nighttime visual makeover. Nintendo hinted that other elements will be altered with these changes, but players will need to discover these for themselves.
Super Mario Maker launches for Nintendo Switch on June 28, 2019. The game is available in both a standard and limited edition, priced at £47.99 and £57.99 respectively.