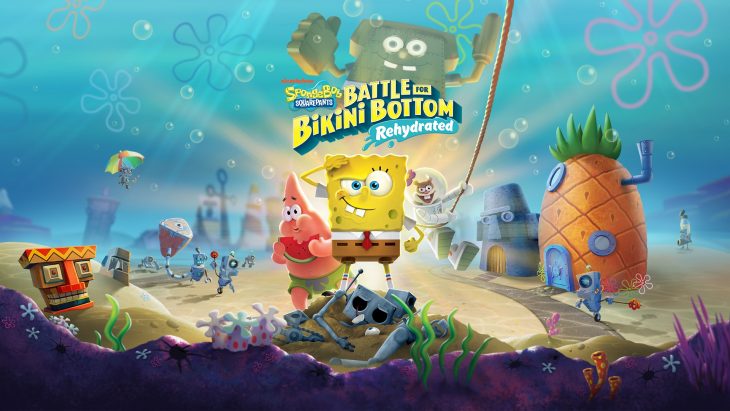 While The Last of Us Part 2 once again tops the US weekly sales chart this week, a brand new entry sits in second place, SpongeBob SquarePants: Battle for Bikini Bottom – Rehydrated.
The SpongeBob SquarePants remaster might not seem like the kind of game to sell so well, since on the surface it has a small audience of younger players. However, the game actually has a core fanbase who see it as a cult classic, many of whom picked the game up to speedrun it.
Ring Fit Adventure remains in third place this week despite a drop in sales week-on-week of 12 percent. The game is in stock in stores, and there's still demand for it as a way to keep fit at home.
Mario Kart 8 Deluxe dropped from second to fourth this week, with sales falling by 36 percent week-on-week. This may be due to a limited supply of Nintendo Switch consoles this week, many consoles sell bundled with this game. Switch Lite hardware stock is looking to be running low, so this drop in sales could be caused by those consoles specifically.
Call of Duty: Modern Warfare dropped one place to fifth this week, and NBA 2K20 dropped one place to sixth.
Animal Crossing: New Horizons seems to be seeing a sales revival, with a boost of 24 percent week-on-week, putting it in seventh place. The game has just seen a new summer update, which may have revitalized the community, and demand for the game.
51 Worldwide Games saw a drop in sales of 10 percent week-on-week. The game may sit in eighth place, but sales have been extremely consistent since it launched four weeks ago now.
Grand Theft Auto comes in ninth this week, and The Last of Us Remastered rounds out the chart in tenth place. The game has seen a boost to sales since it is almost a requirement for playing the sequel.
The second new release for the week, Assetto Corsa Competizione, didn't manage to sell enough copies to make it into the top ten chart this week.
The top ten best-selling games in the US for last week, according to our data, are as follows.