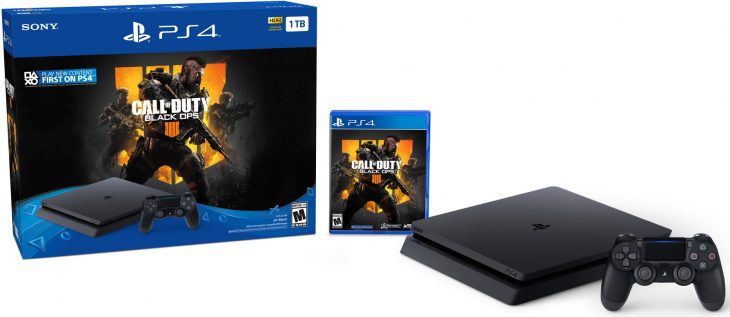 Alongside a blog post celebrating the fifth anniversary of the PlayStation 4, Sony have announced a brand new console bundle that comes with Call of Duty: Black Ops 4.
The Call of Duty: Black Ops 4 PlayStation 4 bundle packages together a copy of Call of Duty: Black Ops 4, a wireless Dualshock 4 controller in jet-black, and a jet-black 1TB PlayStation 4 model.
Any consumers hoping to pick the bundle up cheap as part of the Black Friday sales phenomenon might be out of luck, since the bundle goes on sale on the 27th of November, a week after Black Friday.
The bundle will be on sale for $299.99 according to the blog post, bringing one of the biggest Call of Duty games in recent years to those who want to invest in a PlayStation 4 this holiday season in one package. The bundle helps consumers save money compared to buying bundles that package in a copy of the game on top of the core unit price.
Black Friday deals on PlayStation 4 consoles that are similar are currently set to be priced at around $200. These bundles bring the same PlayStation 4 1TB model, but package in a copy of Spider-Man as opposed to the latest Call of Duty. compared to the Black Ops 4 bundle these Black Friday deals seem to offer much better value for money, allowing consumers to purchase a copy of the new Call of Duty and two other games for the $100 difference.
Any Black Friday deals are sure to be limited however, so consumers may not get the chance to weigh up what games they want on their console and simply have to purchase whatever bundle is available. The new Black Ops 4 bundle will be far less limited in terms of stock, and available for the foreseeable future.
Call of Duty: Black Ops 4 brings three distinct modes to players, multiplayer, zombies and Blackout. This is the first Call of Duty title to add in a battle royale mode such as Blackout. While the game mode didn't seem to receive much positive feedback from fans at launch, it's now gaining traction as one of the most popular battle royale modes to watch on YouTube and Twitch.