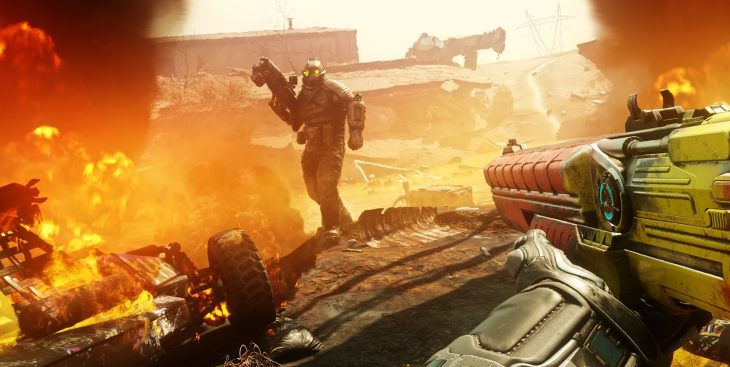 With the game releasing in just over a week, Bethesda made the announcement that Rage 2 has gone gold ahead of its launch on May 14, 2019. When a game goes gold it means that development has finished. No any work Bethesda do on Rage 2 will be released in the form of a day one patch, as is normal for games in this generation.
In a blog post Bethesda fondly reminisce about the announcement of Rage 2, which was accompanied by a live performance from Andrew W.K. It goes on to talk about how it seems so long ago that peo didn't even know Rage 2 existed, but now it's one of the most anticipated games of 2019.
Rage 2 is the sequel to Bethesda's original title, Rage. The original game was a familiar setting, the post-apocalypse, but with a different twist. Now the world had been destroyed by a meteor, and mutants had been created from the aftermath. The game was meant to be open world but was instead a sequence of smaller open areas that made the whole thing feel underwhelming. Even the best loved mechanic in the game, the Wingstick, wasn't enough to save it from a mediocre reception.
With Rage 2 Bethesda have gone back to the drawing board and redesigned their post-apocalypse. Now vibrant colours are all over the place, and the game is set in a truly open world at last.
Players will explore Rage 2's world with an arsenal of new weapons and abilities that make them far more powerful than they were in the original game. While Rage 2 remembers its roots, it also reimagines a number of mechanics to make the player feel faster and far more deadly.
Rage 2 brings back a lot of old video game tropes, such as announcements for kills, and even cheat codes. The game isn't looking to make these tropes relevant again, but is using them to have fun with gamers of all age. If nothing else the inclusion of cheat codes is a nod to the older audience playing the game who remember pressing buttons manically trying to unlock infinite health.
Now that Rage 2 has gone gold it seems likely that it will have a flawless launch, one that isn't marred by technical issues like so many games see. It will become clear soon if Rage 2 is the game that everyone wants it to be, or another underwhelming entry like its predecessor.