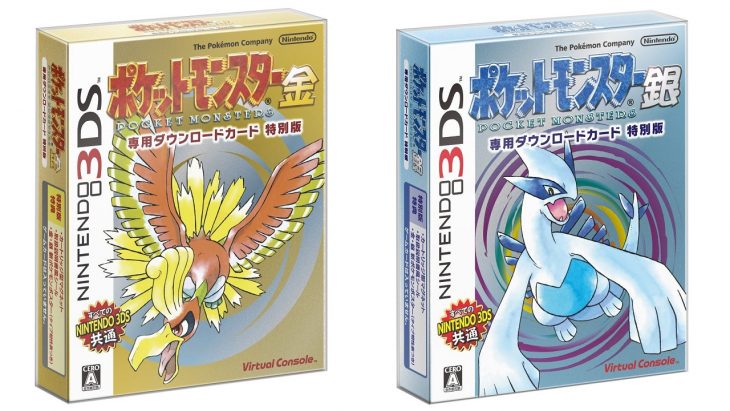 Pokemon games have taken over the top of the weekly software sales chart in Japan for the week ending September 24th.
The download card versions of Pokemon Gold and Silver for 3DS have take the top spot with 56,013. The games are a new entry in the chart and have been highly-anticipated eve before they were announced. Special editions of the physical cards were also available to make the games look more like their original GameBoy Colour versions, which released in 1999.
Second in the chart is Pokken Tournament DX for Nintendo Switch which sold 51,960 copies during the week. This is down from the game's original launch numbers on Wii U, the opening sales of which were 73,000 in 2016. However Pokken still managed to sell 40,000 more copies than last week's new fighting entry, Marvel Vs Capcom: Infinite.
The final new entry to the chart was Dragon Quest X: All-in-one-package from Square Enix for Nintendo Switch. The game sold 13,588 copies in the same time period.
Splatoon 2 for Nintendo Switch dropped to third position in the chart after a 32 percent drop in sales down to 20,697 copies sold. Last week's number one game, PES 2018, also saw a slide down the chart this time to fourth position after a drop of 72 percent in sales, and 19,275 copies sold.
Two games from last week's software chart fell off this week after failing to sell enough to maintain their position, Uncharted: The Lost Legacy and Metroid: Samus Returns.
Meanwhile in the hardware chart the Nintendo Switch is still the number one console with an increase of 31 percent week-on-week and another 50,000 units sold.
Top 10 video games in Japan for the week ending September 23, 2017:
1. Pocket Monster Gold / Silver – Download card version – 3DS – Nintendo
2. Pokken Tournament DX – Nintendo Switch – Pokemon
3. Splatoon 2 – Nintendo Switch – Nintendo
4. PES 2018 – Playstation 4 – Konami
5. Dragon Quest X: All-In-One Package – Nintendo Switch – Square Enix
6. Mario Kart 8 Deluxe – Nintendo Switch – Nintendo
7. Marvel vs Capcom: Infinite Standard Edition – Playstation 4 – Capcom
8. Dragon Quest XI: Echoes of an Elusive Age – 3DS – Square Enix
9. Destiny 2 – Playstation 4 – Sony
10. NBA 2K18 – Playstation 4 – 2K
Best selling consoles in Japan for the same week:
1. Nintendo Switch
2. Playstation 4
3. New Nintendo 2DS XL
4. New Nintendo 3DS XL
5. Playstation 4 Pro
6. Playstation Vita
7. Nintendo 2DS
8. New Nintendo 3DS
9. Wii U
10. Playstation 3
11. Xbox One S